Humor
I wish I were a humorist like Mark Twain, someone who could help people laugh at our foibles and defuse the anger that pervades political discourse these days.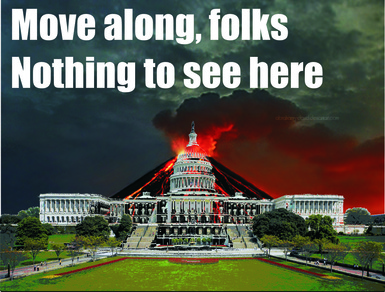 Anger in politics is nothing new, not in America. We the People have been persecuting each other since long before we even became a nation. The Sons and Daughters of Liberty frequently rallied to tar and feather Tories and then run them out of town on a rail. The end of the Revolution didn't end the acrimony. Legislators caned one another on the floor of Congress or retired to the edges of Washington to add orifices to each others' bodies with pistol and sword. Then came the Civil War, the biggest political brouhaha of all times.

Things didn't get any better in the Twentieth Century. Labor unionists and armed thugs hired by mine and mill owners regularly dented each others' craniums with brickbats and billy clubs. And, let's not forget General MacArthur leading the troops to disperse World War I veterans who wanted nothing more than their promised due. Need I mention the Civil Rights riots, KKK lynchings, and assassinations?

The problem is that modern politics isn't self-regulating as in those earlier times. The volume of political discourse necessarily diminished as opponents died in those melees or sent each other to their sick beds. Today's factions meet on the Internet and hurl epithets instead of cobblestones and bullets. Cowards.

Sorry, I'm not being very humorous, am I? Like I said, I wish I were a humorist. I make no claims at being one, though I have written humor on occasion. The humor I've written in the past was personal. I find it much easier laughing at myself than others. As I grow older, it becomes increasingly easy to find things to laugh at. As I approach that meeting with my Maker, I find myself thinking about the Hereafter, as when I'm standing at the open refrigerator wondering, "What the hell am I here after?"

Still, I'm beginning to see a glimmer of humor emanating from Washington. Yes, even in these troubled times. I bet you can see it too. Cracks are appearing in the wall around our nation's capital as though it's slowly expanding, a sort of slow-motion explosion. Capitol Hill looks more like Mount Etna as scandals pour forth in red hot glowing rivers while pols and bureaucrats run around like a Keystone bucket brigade screaming, "Move along folks, nothing to see here!" Do you think that news anchors should come in triplets rather than pairs? That way our purveyors of truth, justice, and the American way could mimic the famous monkeys, "See No Evil, Hear No Evil, and Speak No Evil".

Ultimately, I think that things will become much worse before they become better. Maybe I'll become a humorist after all.

Let this be a beginning...