Opinion
MY TURKEY IS better than yours. There, I've said it. It's true unless you roast yours the way I roast mine. I know. It's your opinion versus mine. This is, after all, an opinion piece. (Aren't you glad the election is over? We can all give thanks for that.)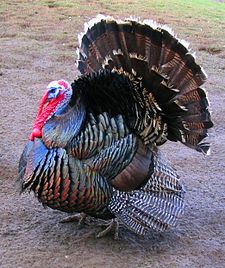 Do you brine your turkey?
You can't begin to compare yours with mine if you don't brine it. How can you infuse the meat with the wonderful scents and flavors of spices and herbs if you don't brine it?
Basting?
A waste of time. You can stand there all day with a ladle, pouring juices over the bird. What happens to them? They run off carrying whatever spices and herbs you used with them.
Buttering?
Another waste of time. You slip a knife between the skin and meat and fill the cavity with butter infused with herbs and spices and the same thing happens. The butter melts and carries the flavorings into the pan below.
Brining?
The only way to go. It works through the process of osmosis. The brining fluid, saltier than the water in the cells of the meat, is infused throughout the entire bird carrying the essential oils from your herbs and spices into the meat. Brining has the secondary benefit of dissolving and washing away blood clots that remain inside the bird.
I used to purchase Kosher turkeys for the holidays. I gave up the practice when I retired and couldn't afford the luxury any longer. Kosher turkeys cost around $100 depending upon their weight. I now purchase any cheap bird I find at Costco and brine it myself. The result is even better since I can add the flavors that the family prefers.
A good brining solution must contain three elements: Salt, acid, and sugar. Google recipes for brining turkeys and you'll find countless suggestions. Just remember to keep your brining container in the refrigerator or add and replenish ice to maintain a proper temperature to prevent spoilage.
A great turkey only begins with brining. You must roast it properly as well.
Deep fried turkeys have become very popular recently. Unfortunately, my wife won't let me play with fire any more, and I've heard of far too many incidents of houses being destroyed while the family feasts on the charred remains of an overdone bird. Also, deep frying seems counter-intuitive to me. If the bird isn't naturally tender, you'll end up with a tough meat. Thus, I wouldn't try deep frying a large Tom.
I slow roast our turkey.
Maintaining an average temperature of 180º requires a good thermometer and an intimate knowledge of your oven, but the results are worth the effort.
Am I crazy? That's what my mother-in-law thought. She was convinced that I was going to murder the family roasting the turkey at that temperature. Don't worry. Bacteria cannot survive temperatures above 140º. You just have to make sure that your oven doesn't cycle below that temperature during the time you're roasting your turkey. (That's why you need a good thermometer.)
It takes about 12 to 18 hours to slow roast a turkey. Come on. It's not like you have to stand there stoking the oven all that time.
So, what's the advantage? Actually, there are several.
The turkey will roast evenly from crust to its core. You won't have overdone outer layers and underdone inner layers.



The turkey will be moister. No, it doesn't dry out. Water boils at 212º and escapes as steam. That's why your turkey loses so much of its weight during roasting. Slow roasted turkeys lose very little weight.



The turkey will be more nutritious. Essential vitamins are destroyed at temperatures in excess of 211º. You'll never reach that in an oven averaging 180º.



The turkey will be tender. In fact, the toughest old Tom will be tender when it's slow roasted. In fact, don't limit slow roasting to turkey. You can slow roast any meat. It's especially effective with wild game. The gamy flavor is lost and the meat is tender.



Finally, you'll be surprised to discover that you are left with a lot more drippings for making gravy and moistening your dressing. (By the way, never slow roast a turkey with the dressing inside.) The juices that sweat out of the bird during slow roasting remain in the pan. They will not boil away as they do in a hotter oven.

When the internal temperature of the turkey reaches 180º, crank the oven up to 375º until the skin is the desired shade of brown. Then remove the turkey from the oven and tent it with aluminum foil. Allow one hour to pass before carving.
There you have it. Follow my advice and you'll not only enjoy the best turkey you ever had, but also scare the hell out of your mother-in-law. Or, you can simply eat an inferior turkey.