Cuba
THE FEW FIDELISTAS who survived the ambush at Alegrío del Pio when they disembarked from the Granma, had a big job ahead of them. Most of them were from the cities and educated. They had little in common with the recruits who came from the ranks of the outcasts and outlaws who populated the Sierra Madres mountains at the eastern end of Cuba.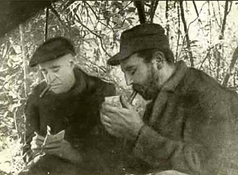 New York Times correspondent Herbert Matthews provided an independent report of the Fidelistas' camp on Pico Turquino when he interviewed Fidel Castro there (click to enlarge)
Inasmuch as I am a trained infantry officer, I understood the kinds of training that they would need. The interesting part of writing Rebels on the Mountain came in creating methods of providing infantry training without the facilities and equipment that I had when I attended Infantry School. There was no record left by the Fidelistas describing their techniques, at least none that I could locate, and the only two surviving rebels, Fidel and Raúl Castro, aren't available for an interview.

Unfortunately, the few descriptions I could find concerning the conduct of the Cuban Revolution, are highly suspect. Like most propaganda, the narratives are mostly apocryphal.

Fidel, I suspect, wasn't much use for training the new recruits. He hadn't demonstrated any capacity for battlefield leadership during his aborted raid on the army barracks at Moncada, the one that landed him in jail. Also, during the stay in Mexico while his men were training, Fidel was constantly engaged in raising funds for his invasion. Ultimately, the only references I could find that mentioned Castro's participation in battles referred to the fact that he fired the first shot signaling the commencement of an attack.

Raúl Castro and Camile Cienfuegos were Fidel's chief lieutenants during those early days. Camile, hardly known in America outside of Cuban-American communities, probably was Fidel's best field commander. His photographs reveal a man of intelligence and humor, the kind that soldiers like to follow. It is doubtful that Raúl would have held any position of importance except by nepotism.

Che was the doctor although he groused continually that he wanted to fight. However, he had no training and, ultimately, proved to be an inept commander, especially at the Bay of Pigs invasion. That left about eight Fidelistas to provide training to approximately 200 recruits. I calculated that they must have been divided into platoons of about thirty each with one Fidelista assigned to lead them in the capacity of a sergeant I supposed. These would be manageable training units.

Every recruit brought their own weapon as Castro had none with which to arm them. One can only imagine the problems this created with supplying different caliber ammunition. How they were able to train these men to move, shoot, and communicate, as a combat team is the stuff of legend. I really enjoyed speculating as I wrote Rebels on the Mountain.