SOME OF MY REGULAR blog followers have complained privately. Why didn't I finish the story of Fidel Castro's revolution? Why did I stop telling the story in my blog leaving Fidel and his small band of poorly armed, poorly supplied, and poorly led rebels surrounded on a mountaintop in Eastern Cuba? How did he defeat a modern, well-equipped, and well-trained army of 40,000 with fewer than 300 Fidelistas? How did he accomplish this amazing feat in just two years? It sounds eerily similar to the story of 300 Spartans almost defeating the Persian hordes at Thermopylae, doesn't it? What is the rest of the story?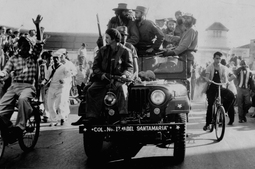 Fidel Castro rides with his most competent lieutenant, Camilo Cienfuegos (Castro's right) to Havana after Batista fled (click to enlarge)
The truth is that I've already told the rest of the story in my novel
Rebels on the Mountain
.
I've used this blog to provide readers with the background story of Cuba, from pre-Columbian Times until the year when Castro and his men arrived from Mexico on the motor yacht
Granma
. It's all here. I will soon collect these postings into a single volume. I'll let you know when it's available.
Rebels on the Mountain
is as historically accurate as I could possibly make it. Still, it is a work of fiction. Too much of the history is lost in hyperbole and propaganda. Also, I used fictional characters to provide readers with a point of view and help explain the events that occurred during Castro's revolution.
I have not yet decided whether or not to write a sequel to
Rebels on the Mountain
to help people understand what happened to Castro after the revolution. How did he transform from a spirited rebel leader into a tyrannical dictator? How did he become an enemy of America? Why did President Eisenhower refuse to meet with him? Why did President Kennedy authorize and then repudiate the Bay of Pigs invasion? I would love to understand how Ernesto Che Guevara became a popular icon when, in fact, he was Castro's murderous executioner until even Fidel could no longer stomach him. That will remain a mystery. However, it is no mystery as to why Castro continued to promote Che as a hero of the revolution. Would you like to know why? That story will be easy to tell if I decide to tell it.
What will inspire me? Demand. Your demand. Read
Rebels on the Mountain
. Then I will know that you really want to hear the rest of the story.