Blogging
There are stories that seem explain life better than most. Everyone knows them. The Emperor's New Suit of Clothes and The Little Boy Who Cried Wolf help me understand much of what is happening, especially in politics. However, a tale from The Song of the South by Joel Chandler Harris, "Brer Rabbit and the Tar Baby", seems especially prescient, especially to those who would involve themselves in any discussion thread on the Internet.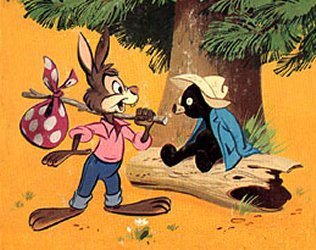 Quickly, in summary, Brer Fox [note: "Brer" is Harris' transliteration of the slaves dialect for "brother"] crafts a small human from tar, clothes it in hat and coat, and sets it on a log by a trail frequented by Brer Rabbit in an attempt to trap and capture his prey. Sure enough, Brer Rabbit attempts to engage the tar baby in polite conversation and becomes upset when it refuses to respond to his greeting. When Brer Rabbit attempts to punch the tar baby to teach it to be more polite, he becomes enmeshed in the sticky goo.

Isn't this an apt description of many of the discussions you have encountered on Internet discussion threads? It seems so to me.

Internet users enjoy the same anonymity as drivers in their motor vehicles. Even the meekest of humans seem to become aggressive when they feel assured that they are immune to the consequences of the words in their postings. Even worse, when they find themselves among like-minded people in a discussion, they quickly form themselves into mobs to attack anyone of a different ideological persuasion.

Too often, I delude myself into thinking that I am the conversational equivalent of a Texas Ranger. I suppose that reference requires some explanation...

There is a statue in the concourse of the airport at Dallas Love Field. It depicts a Texas Ranger confidently striding into the path of danger. The inscription on the base of it reads "One riot, one Ranger" and honors the true story of a Ranger who arrives in a town just as a mob is rioting in the streets. A local citizen who had sent an urgent plea to the Texas Rangers for help, is surprised to find just one lawman. What he doesn't know is that the Ranger had arrived coincidentally on another matter. When the citizen explains the situation, the Ranger calmly responds, "One riot..."

Thus, I wade into these mobs who are verbally abusing each other on Internet discussion threads and attempt to bring peace and order and end up like Brer Rabbit.

Tomorrow, I will comment on what I've learned or should have learned.