Sea Scouts
I TOOK MY FAMILY and fled Los Angeles when the Summer Olympics came to town in 1984. I took them to Maryland to introduce them to my birthplace and the Chesapeake Bay where I grew up as a Sea Scout. I shared with them one of the Bay's special treats: Boarding house meals.

Wherever we cruised the Bay, up every river and backwater creek, we were bound to find a widow woman and her daughters serving amazing home cooked meals at prices that Sea Scouts could afford. There was the added benefit that every meal that we ate on someone's screened-in porch was one that I didn't have to cook on a two burner propane stove in the confined spaces of the galley, and that someone else was going to wash up afterwards.
Every meal began with the "tease." You were expected to arrive early and sit outside the dining area, on the lawn if the weather was favorable. There was a dog – there was always a dog, usually a Chesapeake Bay Retriever – happy to play with you. You tossed the sticks, it retrieved. Two by fours, it retrieved. Logs, it retrieved. You couldn't tire the damn thing out. He probably would have retrieved a nearby dock if we could have figured out a way of tossing it for him. All the while, one of the daughters would rush to refill the pitcher with iced tea and bring a waft of the kitchen with her, where fresh bread was just out of the oven, cooling. It was tormenting.
I remember lunch one Sunday afternoon on the porch of Hilda Crockett's Chesapeake House on Tangiers Island. The "island" is actually comprised of many small ones adjacent to the Bay's eastern shore, just south of the Maryland/Virginia line. It was a summer retreat for the Pocomoke Indians, but occupied by the British since pre-Colonial days. It is so isolated that its inhabitants still speak the same dialect that their forebearers brought with them.
We arrived at Hilda's wearing our dress white uniforms and gob hats. Our shoes were shined and our hands washed. Hilda insisted that we clean up after playing with the dog. There was an awkward pause after we sat at the long table on the screened-in porch as Hilda and her daughters hovered over us with their hands folded over their aprons. Our boatswain, Terry Feelemyer, deserved his rank. He was the first to figure out the problem and led us in grace. Hilda and her daughters disappeared as soon as we uttered "Amen."
They returned with steaming plates of fried chicken, biscuits and gravy, and corn on the cob. There were potatoes: mashed and roasted as well as boiled with butter and parsley. There were countless vegetables. I seem to remember garden fresh peas, snap beans, and okra. The rolls were fresh from the oven and smelled of yeast. We watched all this pile up in the center of the table as we whetted our appetites on crab soup and crab cakes. Should I mention dessert? Can you bear it? Apple and peach cobblers with (I swear) home made ice cream.
You may wonder how a crew of Sea Scouts could have afforded this banquet. You needn't fear. It was only $2.75 per person. Granted, that was worth more than today, but we gladly forked it over.
Visit the
website
for Hilda Crockett's Chesapeake House. You may be surprised. Adjusting for inflation, the price is just about the same today.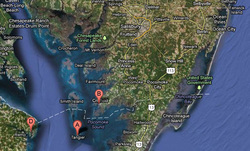 I can't remember the name of the establishment, but a similar boarding house on Onancock Creek, farther down the Eastern Shore from Tangiers Island, boasted a selection of fifty-seven dishes served buffet style when boaters visited. Dunaway Walker – the yacht club's resident storyteller and frequent guest of the Sea Scouts on cruises – was a man of great appetites, as well as the possessor of a glorious baritone voice. I remember watching him circle that buffet table with a plate in each hand and a third balanced in the crook of one arm. I have never experienced anguish as deep as the emotion that played on his face when he had filled all three and realized that he had only sampled a quarter of the delights on display there. He returned after emptying all three and took a stance like a bare knuckle pugilist, determined to conquer the whole feast.

During our vacation on the Chesapeake, I rented a home on Smith Island, midway between Tangiers Island and the mouth of the Potomac River. Our first meal there was at Mrs. Kitchings Boarding House. My wife was concerned that the experience could never match my memories of it. She had nothing to fear. After twenty minutes, she looked up from her plate with a grin that split her face and announced, "I didn't know that food could taste this good." I had to buy a copy of Mrs. Kitchings cookbook so I could keep her happily fed in succeeding years.