Good Read
WHAT BINDS A NATION together? Religion? Schisms within the same religion often tear theocracies apart. Geography? The world simply isn't divided into convenient parcels and peoples often spill into one another's domains in search of resources. Loyalty? Loyalties to family, tribe, and king never lasted more than a few generations as nations, especially those with an abundance of ambitious hereditary leaders, ripped themselves apart with internecine strife.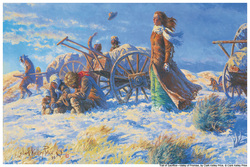 This question haunted the leaders of the United States in the early part of the 19th century as its citizens began pouring through passes in the Allegheny Mountains. What would bind these pioneers to Washington? It was a valid question. These were the people, or the first generation descendants of people, who had fled motherlands to find liberty and opportunity in the new world. They didn't share one religion. They felt trapped by the Allegheny Mountains as they were trapped in their motherlands. They had long before cast off loyalties, most recently to England. To the west they saw vast unclaimed territories where they could own property and escape the yoke of established landowners in the east.

Poor communications threatened to isolate these early pioneers from the new nation and America's leaders in Washington knew that they would lose control as they lost touch with them.

Enter Robert Fulton and his little steamboat, the Clermont. Few could have foreseen that the wake of its passage up the Hudson in 1807 would ripple across the nation. The technology that it demonstrated was quickly employed to establish lines of communication along the waterways of the nation's interior, between the Allegheny and the Rocky Mountains. Thus, Fulton provided the answer. We would be one nation bound by commerce.

Indeed, it seemed that the men who drafted the Constitution were prescient in adding the commerce clause. They not only insured freedom of commerce between the several states, but also between the nation and its territories.

Thus,
The Fire of His Genius
is more than a story of a man and his invention, it is the story of an invention and its ability to unite a nation.