Good Read
YOU AND I may not be looking for the same things in a story. In other words, the books I like, you may hate. So, let me run it down for you before I attempt to get you all excited about Jack Whyte.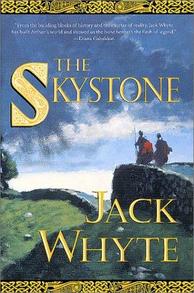 I like three-dimensional characters. I can't drum up much interest in a story if I'm not interested in the characters. My wife and I walked out on
Fatal Attraction
, a hugely popular movie, because we didn't like the Michael Douglas character and pretty much figured that he deserved whatever happened to him.
I like well-narrated exposition. I want the author's words to transport me to that time and place in which the story is set, much like Michener did in his early works.
Hawaii
and
The Source
were great examples.
Basic mistakes jar us back to reality and the
spell
is broken by bad spelling. I'm not too concerned with the literary quality of a book, but basic rules of grammar, spelling, and punctuation should be observed. People who really enjoy books, like me, drift with the story, identifying with the characters and imagining themselves in its milieu. Simple mistakes are speed bumps that simply destroy the mood.
Finally, I find it easier to become engrossed in a story when it is believable. Yes, I can accept elves and ogres, especially when they are crafted by a genius such as Tolkien. Unfortunately, few writers are able to engage in believable flights of fantasy and should stick with the real world – the one they live within.
That being said, Jack Whyte took a fantasy, the legend of King Arthur, and wove it into the fabric of real history, the fall of the Roman Empire, and created a series of stories that I can recommend enthusiastically and without reservation. He populated them with magnificent heroes, and crafted a sense of time and place that is unparalleled in the genre of historical fiction. As an author working in the same genre, he inspires me.
The Camulod Chronicles – yes, Camulod is an actual place, the site of a Roman fort that the author chose as the historical precedent for Camelot – is a series of seven books that must be read in their correct order to fully appreciate the flow of history from the contraction of the Roman Empire to the rise of a society built on the foundations the legionnaires left behind.
Jack Whyte breathes life into mythical characters as only a creative genius can. Merlin's spells are simply explained as scientifically sound applications of physics and chemistry that would have seemed magical to primitive peoples. Arthur is a boy raised with the discipline of a legionnaire and a love of the native Britains he is taught to serve as their lord.
The author also reveals the myth of Excalibur as a leap in the technology of the weapons of war. He even creates a believable etymology for its name. Indeed, his treatment of Arthur's famous sword is just one example of the details that he infused into his novels to explain the legend without destroying the wonder of it.
If you have gotten this far in my tirade, you must now click this
link
and begin acquiring and reading these books.
Oh and when you're done, read his trilogy about the Knights Templar.
Good reading.