Infantry School
WE ALL HEARD the axiom many times: "There's a right way, a wrong way, and the Army way." Well, I added one: "Jack's way." The Army's first encounter with "Jack's way" came in Basic Combat Training.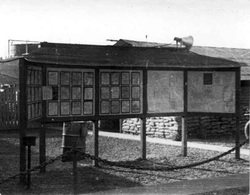 Duty Rosters were displayed on the company bulletin board outside the orderly room (click to enlarge)
One day I found my name on the duty roster listed as "Fire Guard." "What's that," I asked another recruit standing nearby.

"You stoke the furnaces," he informed me.

"What furnaces?" I had seen air ducts branching throughout the barracks but never felt anything coming out of them.

He shrugged. "The sergeant will tell you if they need you."

The sergeant on duty needed me in the middle of the night. He sent the company runner to get me at "Oh dark thirty." I dressed hastily and reported to the orderly room.

"What furnaces?" I asked him.

"Go find 'em," he grumbled and headed back to his own bunk. "There's a door to the furnace room in the side of each building."

There was! There really was. I was convinced that they must only appear magically in moonlight. I hadn't noticed them before.

I crept inside and felt around for a light switch. I found one and flipped it. A motor started running. No light. I flipped it off and felt around until I found another. This one turned on a light revealing two iron monsters waiting for me. It took me a while to discern their purposes. One was a furnace and the other a hot water heater, both coal-fired.

Oh, that's why there was a pile of coal beside each building.

Now, here's where I should have gone back and asked the sergeant to instruct me in the "Army way." However, the last I saw of him didn't encourage me to go back and disturb his rest. As for the right way and the wrong way, I didn't have a clue. So, I went with Jack's way.

Examining the one that looked most like a furnace (it didn't have a lot of plumbing associated with it) I found two iron doors. Opening the top one revealed a grate full of ashes and three small lumps of coal glowing anemically. Behind the bottom door, I found ashes that had been accumulating since World War II. A lever on the outside of the furnace shifted the grating and I shifted it until all the ashes on top fell into the bottom. I then shoveled the whole pile of ashes into a likely looking ashcan nearby.

Luckily, I had some experience lighting a coal fire. I carried in enough coal to cover the grate and got it burning. I then adjusted the flues to make sure the fire got plenty of air.

I then turned my attention to the motor that I had accidentally started when I first entered the furnace room. It was supposed to be driving the fan that forced hot air from the furnace into the barracks. However, the fan belt was hanging on a nail where it wasn't doing any good. So, I connected the fan belt and turned on the motor.

I then turned my attention to the hot water heater and stoked a good fire after cleaning it thoroughly.

I repeated my ministrations in the remaining furnace rooms and went back to bed, satisfied with a job well done.

It was still dark when I next awoke to a lot of murmuring and the heavy tread of the duty sergeant stalking down the line of bunks looking for me. "Get dressed and follow me," he ordered.

I only had time to throw on my pants and boots before he disappeared out the front door. As I ran after him, I began to notice that everyone was awake and the place felt like a sauna.

The sergeant reached the furnace room door and threw it open. "Christ!" he shouted.

I slid to a stop beside him and peered inside. We didn't need to turn on the light. The room was illuminated by the glow of the furnace and hot water heater.

"Quick!" he ordered. "Open all the hot water faucets in the latrines."

I turned and ran, just to get out of his reach if for no other reason. I ran from building to building opening all the hot water faucets, and steam poured out of them.

I then found the sergeant readjusting the thermostats in all the buildings. Apparently, they had all been cranked up to their maximum settings in hopes of warming up the places. However, without the fan belts connected, there was nothing to drive the hot air to where it was needed. Not until, of course, I "fixed" them all.

I learned a valuable lesson that night. Actually, the lesson came later. I was never asked to stoke the furnaces again. That was alright with me. I never again had to wake up at "Oh dark thirty."