Cuba
AMERICA DID NOT send military forces to Cuba as a prelude to annexing the island as a colony or territory. Senator Henry M. Teller of Colorado made sure of that. When legislation was introduced into Congress authorizing military incursion to put an end to revolution in Cuba, he offered an amendment whereby the United States "...hereby disclaims any disposition of intention to exercise sovereignty, jurisdiction, or control over said island except for pacification thereof, and asserts its determination, when that is accomplished, to leave the government and control of the island to its people."

The Senate passed the amendment, 42 to 35, on April 19, 1898, and the House concurred on the same day. President McKinley signed the joint resolution on April 20th, and an ultimatum was sent to Spain.

Some have argued that Teller fought for the proviso to protect his state's sugar beet farmers from the Cubans flooding the market with cheap cane sugar. Not only cheap, but also better. For whatever reason, the Teller Amendment laid the groundwork for paternalism rather than annexation, and the Americans focused on preparing the Cubans for independence.

Interestingly, I lived in Colorado for a few years and was given the false impression that sugar beet farming arose there following the Cuban embargo that began in 1962. Living in Fort Collins, I would pedal my bicycle past miles of fields planted in sugar beets. Most were owned by farmers of Japanese descent who had been displaced during World War II. They remained in Colorado following the war rather than return to their homes and fight to regain them. However, it was in fact the opening of trade with Cuba that American farmers feared. It was not the end of trade that drove them to grow sugar beets.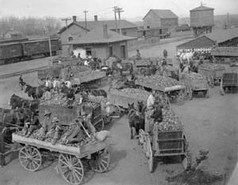 Wagons bringing in the sugar beet harvest to the Colorado and Southern Freight Depot, c. 1902 (click to enlarge)
In any case, the conduct of the American military governors in Cuba supports the contention that the primary motivation of the United States in occupying the island was to prepare them for independence. They corrected every deficiency of Spanish colonial rule. The Cubans benefited immeasurably from the infrastructure that the Americans built. They had never before known justice in their courts or felt the beneficent hand of competent governance.

With the end of the period of paternalism in Cuba, American occupation ended. However, another amendment, the Platt Amendment, insured the continued presence of American forces on the island, not to subjugate the Cubans, but rather to protect American interests on the island as well as the approaches to the Panama Canal.