Television
INVARIABLY, I AM drawn into a discussion of television from time to time. Some of my more snobbish friends refuse to have one in the house. Others can't seem to get enough of it. I've watched a fair share of it. We got our first black and white RCA console television with an eight inch screen in the late 1940s. That being said, I believe it has a place in my musings on history inasmuch as I have witnessed much of it as it revealed itself in its glowing lens in my lifetime.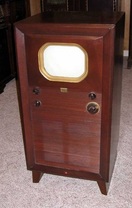 Although television was invented a few years before my birth, it didn't become popularly available until the mid-1940s. I remember my father bringing home that first television. I didn't understand anything about it, not even that it was going to display pictures somehow magically. It just looked like another piece of furniture when he first dragged it into our living room. I had to wait to find out.

My father proceeded to completely disassemble it before it reached room temperature. My father was an inveterate tinkerer. He was working as the maintenance machinist at the Lever Brothers plant in Baltimore at the time. He had a native talent for repairing almost any kind of machine, frequently fabricating replacement parts from raw stock. Over the years he worked there he taught himself to become a journeyman welder, pipe fitter, and machinist. However, electronics were not in his wheelhouse.

Although a very intelligent man, my father was not a scientist. He could not be dissuaded from an explanation once he had crafted it no matter how badly he missed the truth. He once explained radio to me as follows: Imagine, he said, a infinite string of "A's" in the air. When the radio station broadcasts a man saying "A" they are adding an "A" to the string and one at the other end "drops" off into our receiver. Yes, he actually said that.

Thus, although he was able to completely disassemble that television and reassemble it to work, he derived no real understanding of its operation. Still, he was able to remove tubes regularly and replace one that had burnt out using the tube tester at the neighborhood pharmacy (any day of the week except Sunday – but that's another story).

I can't remember much of what we watched in those days. I was five or six when we got the television. I'm pretty certain that my father bought it to watch boxing on the
Gillette Cavalcade of Sports
. He had escaped the coal mines of Pennsylvania as a professional prize fighter and never lost his love of the sport. He would sit on the front edge of his chair with his fists between him and the fighters on the screen, ducking and weaving, stopping only between rounds to refresh himself with beer and potato chips.
I believe that I was among the first fans of puppeteer Burr Tillstrom's
Kuklapolitan Opera
and
Foodini the Great
, a marionette magician.
My first memorable brush with history on television came when I watched the 1953 coronation of Queen Elizabeth of England. I was just ten years old and yet remember it well. I remember the wonder of the technology used – a restored World War II P-50 Mustang fighter was used to fly the film from London to New York by way of Ireland and Greenland – so that we could watch the event just 12 hours after it occurred! No tape then. They flew raw film footage to the studios in New York and put it on the air as fast as they could develop and dry it. They were able to do a little crude editing as the show progressed.
Interestingly, we were still watching tape delayed programming in Hawaii in the late 1960s. News broadcasts were flown in and aired daily, but regular programming, including sporting events, were aired a week later. We spent the week during football season avoiding sports pages in the newspapers so that we could enjoy the game without foreknowledge of the results. Of course, some wise guy would walk by just as we sat down with our beer and pretzels and comment on the outcome.
To say that television has brought about a revolution in communications and entertainment would be a weak excuse for including it as a topic in this blog. However, it is valid to discuss its impact on American politics, especially its role in shaping public opinion during the Vietnam War as well as the War on Terror.