Opinion/Sea Scouts
2012 IS THE CENTENNIAL of Sea Scouting in America. Inasmuch as it was a significant part of my early life during which I not only honed my love of history and was exposed to a great storyteller who influenced my style, but also learned skills that prepared me to be a soldier and an officer, I am writing a series of postings on Sea Scouting to contribute to the celebration.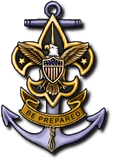 My last hurrah to Sea Scouting came as the skipper of a crew of young men who were incarcerated in the Orange County Juvenile Detention Center at Joplin, California. The Boy Scouts of America weren't especially pleased with me for registering juvenile delinquents into their august body – Boy Scouts are good boys. Too bad. I figured these boys needed a little positive role modeling more than good boys.

Generally, these boys were not successful scholars. Indeed, their teachers at the detention center seemed to have little hope of doing anything more than warehousing them during their periods of incarceration. I offered to help explaining that I could tailor lessons in piloting, seamanship, and small boat handling to complement whatever they were teaching in math, science, and history. All they had to do was send me their lesson plans and I would make adjustments in my program of instruction. They never took me up on the offer.

One day, the principal of their school complained to the facility director that I was setting the boys up for failure - modern American education is all about building self-esteem regardless of any lack of accomplishment. She had gotten her hands on a test I had given them in the rudiments of navigation. One question in particular irked her: If it is solar noon where you are and 1:00 pm in Los Angeles, where are you? She wasn't happy when I explained that all but one of the boys had answered correctly even though I had not previously given them the answer – I had taught them the skill they needed to answer the question. I believe that the boys rose to my expectations of them and fell to hers. Unfortunately, her expectations were parallel to the ones that society had for these boys.

This and other experiences with the boys led to an interesting conversation that we had one day when I asked them, "What is a teacher?" They danced around the subject for several minutes until I gave them another question to steer their thinking: "What was the first thing you ever learned?"

"No one can "get" an education, for of necessity education is a continuing process."
– Louis L'Amour
After some deliberation, they agreed that walking was the first thing they learned. Good start. Who taught them? Their family. How did they teach them? This took a lot more deliberation.
I helped them imagine themselves lying on the floor, raising their heads to look around, and seeing feet and the lower parts of legs passing by. It was amazing how seriously they took to the exercise until they came up with an answer to my question: Imitation. Their families demonstrated the skill and they imitated it.
"Did they master it right away?" No, using their experience with their younger siblings for a guide, they visualized their first unsteady steps. They visualized themselves hanging on to furniture or holding someone's hand to steady themselves.
The last part of the exercise was the "Ah ha!" moment. Beaming with pride, the boys declared that a teacher is someone who exposes you to a challenge and then holds your hand until you master it. The corollary is simply that no one can
teach
you anything; you have to learn it. Personally, I have never heard it stated better.
---------------------------------------------------
"
I quit school in the 10th grade because it was getting in the way of my education." –
Louis L'Amour,
The Education of a Wandering Man
---------------------------------------------------
This incident frequently comes to mind, especially when I read an article such as the one that appeared in the Los Angeles times on Sunday, August 21st,
Chocolate Milk? Not in schools
, reporting the debate at the Santa Monica/Malibu School Board to ban flavored milk in schools. Interestingly, the preponderance of comments in the discussion thread following this article berated the school board for focusing on this issue when the problem they purport to be addressing, obesity, is rooted elsewhere and that there are far more important issues, such as poor academic performance, that they should focus on. I say "interestingly," because discussion threads attached to news on the Internet are not known for common sense or rational speech.
---------------------------------------------------
"What is education but a conditioning of the mind to a society and a way of life."
– Louis L'Amour,
The Californios
---------------------------------------------------
I met one of the boys, a man now with a wife and daughter, working in a store that my wife and I patronize. We had a pleasant chat and always pause to say hello whenever we've gone back there. He is the only one I met or heard of since retiring from Sea Scouting. I hope there are more. Somehow, even one is enough to provide a lasting sense of pride and accomplishment. Too bad too many real teachers fail to realize that teaching someone to think for themselves is its own reward.
[Note: If it is solar noon (the time when the sun is highest above the horizon) where you are and 1:00 pm in Los Angeles, you are approximately 15º west of Los Angeles. The earth rotates 360º every 24 hours or 15º every hour. You would need more information to determine latitude and thereby fix your position at the intersection of latitude and longitude.]