Cuba
AS THE SPANISH came to dominate the interior of the Cuban island in the late sixteenth century, they shipped in livestock to provide protein to their armies of conquistadores and the new colonies in Mexico as well as Central and South America. They enslaved the native islanders to work their ranches, but these people quickly began to die off. They had never been exposed to herds of domesticated animals, and began contracting virulent diseases for which they had no immunity.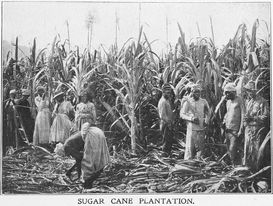 Harvesting sugar cane in Cuba in 2012 looks much the same as it did in 1912, 1812 or 1712 (click to enlarge)
The Spanish imported black African slaves to replace the Carib and Taino natives. They not only had the requisite immunities to survive the diseases spread from domesticated animals, but also, many had experience herding cattle. Cuba's cattle ranches grew and prospered. The meat went to the colonies. The hides went to Spain to be manufactured into boots, saddles, and every other conceivable product. Cuba was committed to a single product economy, a problem that would plague them even to this day.

However, unrest grew, especially in those places where the Africans began to outnumber all other people in the islands. Slaves in Haiti mounted a successful revolution and achieved political independence from the French in 1804. The slaves in Cuba might have followed their lead except that Spain was loosing its colonies on the mainland, and was able to exert more control on the island.

Another problem arose for the Spanish as their former colonies in Latin America won their independence. The market for the products of their cattle industry in Cuba began to diminish, and the island also was no longer as important as a link in Spain's lines of communication and logistics with their Latin American colonies.

Christopher Columbus brought sugar cane cuttings to the Caribbean during one of his later voyages. They thrived in the lush soil and copious rainfall on Cuba. The demand for sugar was growing in Spain and elsewhere in Europe. Thus, Cuba's commitment to sugar was as natural as falling off a log. It would remain their dominant cash crop into modern times.

Like cotton in the American south, growing and harvesting sugar cane is labor intensive, and Spain imported even more African slaves to the island to satisfy the demand. Unlike America, the slaves had nowhere to escape to. The nearest land was America, and slavery was dominant in that part of the new nation. Their only recourse to attain freedom was revolution. However, when Hidalgo mounted his successful revolution in Mexico in 1810, the Spanish retreated to Cuba and their rule became even more despotic.

Ironically, as their empire crumbled on the mainland, the Spanish began referring to Cuba as their "ever faithful isle." Yes, it remained faithful, but only under an iron-fisted rule.

Iron-fisted tyrannies continued well after the Spanish ceded their hold on the island at the turn of the last century. Experiments in democratic rule repeatedly failed. The people were not prepared to rule themselves, and strong men rose as they always rise to fill a vacuum in politics. Even those with seemingly good intentions, such as Fidel Castro, are drawn into the web of despotism when people cede absolute power to them. It is in this climate that Nick Andrews, the hero of my novel, Rebels on the Mountain, finds himself. And, inasmuch as every tyrant rests uneasy, those in command in Cuba are suspicious of a capable soldier such as Nick, who is a U.S. Army Ranger.