Blogging
INTERNET DISCUSSION THREADS are a mixed blessing. Some are rational and many are not. However, all have the potential for generating traffic to your website and boosting your rankings in the search engines that drive traffic as well.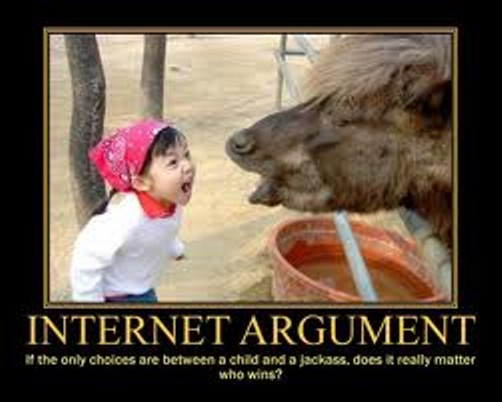 What are discussion threads? They're the comments that accumulate when a blogger posts something interesting or controversial. They're the readers adding their "two-cents worth," responding to what the blogger or a previous commenter has written. Sometimes they add value to the discussion, often they detract, especially in matters of political discourse.
Personally, I welcome all comments, the good and the bad. To be honest, I almost prefer the bad, the argumentative. Nothing attracts a crowd like a good knock-down, drag-out fight, and none of us is blogging for our health. Whatever the purpose of our blogs, we all benefit from attention, the more the merrier.
Last week, I addressed the importance of links to your website that are anchored in other websites (see
Let's trade hyperlinks...
) Well, commenting on websites/blogs is a way of embedding your link there if the comment form includes a field for it and the link is anchored to your name when your comment is published.
Remember, some websites are more important than others, so it is probably better to comment to an article in a major newspaper website than Joe Dokes' Blog. However, comments in less important websites have their value, too.
There's another side of discussion threads that I didn't truly appreciate until I became a student of my website Visitor Statistics. Comments that you leave in discussion threads on other websites help draw visitors to your website. Fortunately, requests for your webpages that originate via these links arrive at your web/blog server contain records of their origin that your server is logging. Hopefully, your hosting service gives you access to it as does mine.
Take a look at a portion of my Top 100 Referrers included in my Visitor Statistics for the month of July. (Click on the graphic below to enlarge.) Obviously, I have built a loyal following as reflected by the fact that 63.19% of all hits on my website are Direct Requests; that is, users have bookmarked my website and are requesting pages without going through an intermediary such as another website or search engine. (Incidentally, almost 2% of the Direct Requests are generated by websites that have RSS feed readers linked to my website – that's about 38/day.)
The other almost 37% of requests for webpages on my website are referred from other websites and search engines. Most of these are new users, coming to my website for the first time, and hopefully they'll return often.
Many of these come from links that are embedded in Tweets, the ones where the
referrer
is listed as a shortened URL (e.g.,
http://goo.gl
... or
http://t.co
...) Although most Tweets generate fewer than 10 referrals each, the aggregate of them represents 0.15% of the total visits to my website.
Two blogs,
Masquerade Crew
and
Kings of War
, continue to generate a significant number of referrals to my website. I have commented to posts on the
Masquerade Crew
website occasionally and they have syndicated a couple of my blog postings. I have only appeared on
Kings of War
in comments. It is interesting to note that I have not commented on the
Kings of War
blog in the past three months and people are still using links to my website embedded in comments that I left there previously.
I'm sure that you've spotted
Triberr
and
StumbleUpon
at the head of the list, just below Direct Requests and
Google
. They deserve a blog posting of their own and I expect to deal with them next week.
Analysis such as this help choose the websites and blogs where I should invest the bulk of my time and energy. It can do the same for you.