Opinion
INSULT COMICS ruined comedy. There, I've said it. Yeah, I guess they're sort of funny if you aren't their target du jour, but I never understood it. I grew up with Jack Benny. He made himself the butt of his own jokes. So did Bill Cosby and Tim Allen. I suppose it takes a special kind of person, a confident one, to stand up in front of an audience and make fun of yourself.

I also think that it takes talent. Making fun of other people doesn't require talent. It only requires a mean spirit, or an ability to dehumanize the target before launching a weapon of mass invective at them.
These days the genre has become the weapon of choice for comics who are determined to punish anyone who questions or contradicts the progressive ideology. It's called
snark
. Sadly, their assaults have all but destroyed civil discourse in politics. Sure, snark is thrown from every side in politics - left, right, and center - but the preponderance seems to come from the left where so many pseudo-intellectuals have come to roost in the entertainment community.
I pine for another time when satirists pointed their barbs at the rich, the famous, and the powerful regardless of their ideology or politics. Anyone in the ascendancy knew that they would be targets as soon as they rose above their opponents. They took it like gentlepersons or were swept away in a tidal wave of laughter.
Last week I spoke of
Will Rogers
. He was a Democrat. It didn't matter. He pointed his barbs at any politician who "got too big for his britches." That seems to be the folly of members of every party once they get elected.
Satire wasn't reserved for personal attacks. Any group or cause that dominated the political landscape could feel its sting. One master of the craft was Tom Lehrer, a lecturer in mathematics at Harvard, who could play the piano and compose merry minuets of mayhem. Take for example this lampoon that he aimed at the folk song army that had risen in popularity during the late 1950s.
Lehrer recognized that those championing egalitarianism were becoming arrogant. Indeed, I wonder how he feels if he reflects on them today since they have come to dominate the American political landscape and seen the rise of a government that has grown far beyond the Constitutional limitations that had been designed to restrain it.
More importantly, his song strikes out against the hubris that assures progressives that they are, in the words of
Thomas Sowell, author of Intellectuals and Society
, "on the side of angels," and that anyone who opposes them obviously "doesn't care" about the things they care about like "peace, justice, and brotherhood."
I was reminded of this the other day when a "friend" posted the following image on FaceBook.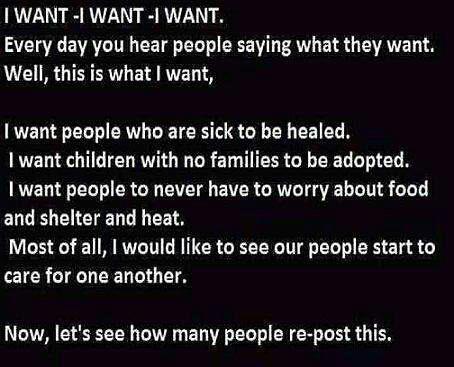 The intent of the message is obvious. My friend cares and anyone who doesn't share the posting on their "wall" doesn't care. Obviously, my friend is a progressive though not an intellectual and, just as obviously, I am not.

Does this mean that I don't care about "peace, justice, and brotherhood?" You may think so. She thinks I'm a Neanderthal. The truth is that I simply believe that progressive methods of attaining these things are counterproductive. Unfortunately, progressives ignore the lessons of history. Just as Harold McMillan appeased Herr Hitler to promote "peace in our time" thereby encouraging the Germans to enslave and massacre millions, today's progressives bow and scrape before the sponsors of terrorism attempting to appease them with similar results.

Meanwhile, comics and comedians who should be helping us see the folly of these efforts, are insulting those who oppose them. They depict opponents of the progressive ideology as racists, xenophobes, and (gasp!) right-wingers, and fabricate evidence proving their assertions. They are, in effect, propagandists for progressivism.

The only ones laughing are the progressives themselves.