Sea Scout
MY MOM WENT to work at the telephone company when I was about eleven years old. She would call and have me begin preparing for dinner so she could begin cooking as soon as she got home. Pretty soon, I was cooking for the family. Inasmuch as she was an operator and worked shifts, it wasn't a daily chore, and I enjoyed it. I've been cooking all my life now.

When I became a Sea Scout, I discovered that the Ship was in need of a cook and it was the fastest way to get some sort of rank to get me out of some of the drudge work, at least when we were cruising. It didn't help on ordinary work details when we weren't cruising.

In all modesty, my meals became legendary. I could work miracles on a two burner propane stove in a four by four galley, while cooking for as many as fifteen teenagers and accompanying adults. There were times when I inadvertently cooked for a significant part of the yacht club.

I made French Toast one Sunday morning and sent a plate to the Eblings who were among the best friends the Sea Scouts had at the yacht club. We were tied up dockside in a small town on the Eastern Shore. The boy I had sent returned with an empty plate and a woebegone look. "It didn't make it." Another member had intercepted him and eaten it. I made another and it too was intercepted.

[Note: Incidentally, my secret to making decadent French Toast is to soak the bread until it is thoroughly saturated in egg mixture so that it becomes like a custard in the frying pan. Too many people merely swipe the bread through the eggs and the middle is dry and nasty.]

A spaghetti dinner once got me into trouble with one of the yacht club wives. I had made too much and the boy on galley police (think KP – Kitchen Police – in the Army) who was supposed to toss the left overs into the trash was intercepted by a yacht club member who had grown impatient waiting for his wife to get ready for dinner at a dockside restaurant. By the time she left the boat, he had consumed the equivalent of three or four servings. I happened to emerge from the boat just as she confronted him. "Have some," he offered extending the pot and ladle to her. "It's really delicious." She attempted to murder both of us with a look.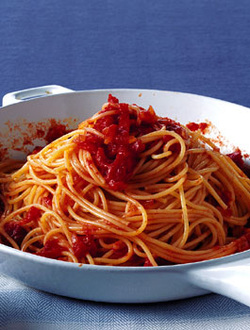 [Note: My secret to making an authentic marinara sauce is to saute the tomato paste and herbs and spices to intensify their flavors. A little wine is needed to dissolve herbs and spices that are not water soluble. Lastly, for some reason known only to the great chef in the sky, marinara sauce improves in flavor each time it is cooled and reheated.]

The only downside to having been the ship's cook is that I know better than most, the effects of inflation. Remember, I was purchasing provisions for as many as fifteen for a nine day cruise. For a hundred dollars, I would fill several shopping carts with my staples. Think about that. These days, you can carry a hundred dollars worth of groceries in one hand.

My pancakes (made from scratch) were very popular and we used real maple syrup – around $.30 for a bottle then, around $10.00 today if you want the real thing.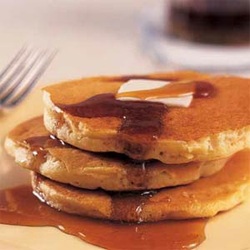 [Note: I don't know why people use pancake mixes. Sift together the "dry" ingredients – 240 grams of AP flour, 50 grams of cake flour, 3 tsps of baking powder, 1 tsp of baking soda, and 1 tsp salt. Blend the "wet" ingredients – 2 cups buttermilk, 1 whole egg or 2 egg whites (save on the cholesterol) 1/3 cup of vegetable oil, ¼ cup sugar, and 1 tsp vanilla. Mix the wet and dry, and stir for about 30 seconds (don't over stir – it should be lumpy and a little dry flour is okay). Cook on a cured griddle wiped clean of any excess shortening or oil.]

I replenished our ice at the stops we made during our cruise, and I bought perishables as I needed them. Ground beef cost $.30 per pound – around $4.09 today. We used butter, $.75 per pound – around $4.00 today. Milk was less than $1.00 per gallon – around $5.00 today (and you can imagine how much milk fifteen teenage boys would drink!).

I was overly ambitious one Sunday and made fried chicken and candied sweet potatoes for everyone. The yacht club members got wind of it but the boys kept them off the boat. They were extremely disappointed when they discovered that there would be no leftovers.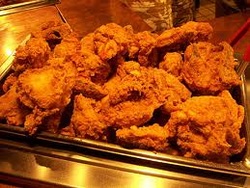 [Note: The secret to great fried chicken is, of course, marinating the chicken in buttermilk overnight. The dredge can be your favorite blend of herbs and spices in flour. However, you must not skip the buttermilk.]

Although I rose in rank to ship's boatswain and only served as ship's cook for two years, I was required to supervise my replacement.