Writing
"HOW DO YOU sculpt a horse?" a man asks an artist in an old parable. "It's easy," the artist is purported to have answered. "Start with a rock and chisel away everything that doesn't look like a horse." I feel that this is the method I used in writing my first novel, Rebels on the Mountain. During the first two years, I wrote approximately a quarter million words. In the past six months, I have been chiseling away to free the story trapped within all that excess verbiage.

Obviously, I'm no Mickey Spillane. In an interview a number of years before his death, I heard him describe his process. He dictated his stories to a stenographer who made fair copies and mailed them to the publisher. He completed the dictation for each story in about a week. Given the fact that I've waited until my sixty-eighth year to create my first novel, I doubt if I have enough time left to live to develop that level of proficiency. Still, I hope to write more than one book. I have two planned for the protagonist, Nick Andrews, who appears in Rebels on the Mountain, as well as one based on my experiences in Vietnam during the war.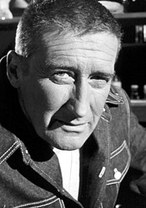 "I'm a commercial writer, not an author. Margaret Mitchell was an author. She wrote one book." – Mickey Spillane

I might make it. Look at Louis L'Amour. He started writing novels late in life, at about age 40 – still a young man compared to me. Yet, he was able to turn out more than a hundred novels and collections of short stories. I know – I read them all.

Although I have just completed my first novel, I am not a novice to storytelling. I've been writing and telling stories since my late teens. A half of century of writing advertising copy, documentary film and radio scripts, press releases, technical journals, a novella and a computer guide, has given me some facility with the craft. I created short children's stories that I narrated in my daughter's elementary school classes. It wasn't until after I retired from the daily grind of earning a living, that I had time to turn my hand to a novel.

Hopefully, my next novel won't take as long. I believe that I began to discover my voice as a novelist towards the end of writing Rebels on the Mountain. It is a voice planted in my head during my teenage years by the greatest storyteller I ever knew, Dunaway Walker. Dunaway was a teacher of Greek, Latin, and rhetoric at an exclusive prep school for boys in Baltimore. No, I wasn't allowed anywhere near the place – not with my academic record. I met Dunaway at the Baltimore Yacht Club, where he was a member and the Sea Scout group to which I belonged kept their boats.

We cruised the Chesapeake Bay with the yacht club fleet and Dunaway frequently rode with us. His vessel was laid up for repairs just as frequently. During these cruises, the fleet visited other yacht clubs and coastal towns all over the Bay. There usually was a cocktail party and dinner for the yacht club members while the Sea Scouts explored other opportunities for fun and mischief ashore. However, almost every evening ended with Dunaway holding forth in the aft cockpit of one yacht or another while we and the yacht club families sat on the surrounding docks and catwalks being entertained by his stories. His endurance was legendary. He would continue into the wee hours of the morning so long as someone kept his beer refreshed.

During my last year as a youth member of the Sea Scouts, I was the Boatswain – Senior Crew Leader. As such, the duty fell to me to emcee the annual community dinner celebrating the anniversary of Boy Scouting, and to invite a guest speaker. My choice was obvious.

Dunaway enthralled the audience that evening. Cub Scouts, Boy Scouts, Explorer Scouts, and Sea Scouts as well as their parents, grandparents and siblings remained enraptured by his performance from beginning to end. Even the toddlers seemed happy to listen to his sonorous voice though they could not possibly comprehend the content of his tales. One of my greatest regrets is that recording equipment was not as popularly available and portable as it is today. I would love to hear his voice again.

You may well wonder at the connection between the spoken word and the written story. However, that is the connection that I am attempting to forge – that is the voice that I hope to develop as a novelist. Although I don't have recordings of Dunaway Walker's tales, I hope that there is still a strong enough echo of his voice in my head to guide me in this journey. Then, instead of sculpting a tale, I may come to simply tell it.