Television
The better question may be what's right about American crime dramas? Nothing. Seriously. They use stick thin women to play detectives and beat cops who would have a hard time carrying their own weight on a fashion show runway. Whenever I see them kick in a door or rough up a thug, my ability to suspend disbelief cries out in anguish. Also, the Brits seem more enamored with acting ability than with beauty.

And American crime dramas don't have a consistent theme. American producers, directors, and writers should study their British counterparts. The Brits have a theme. They love cops who are broken human beings. The more dysfunctional the better.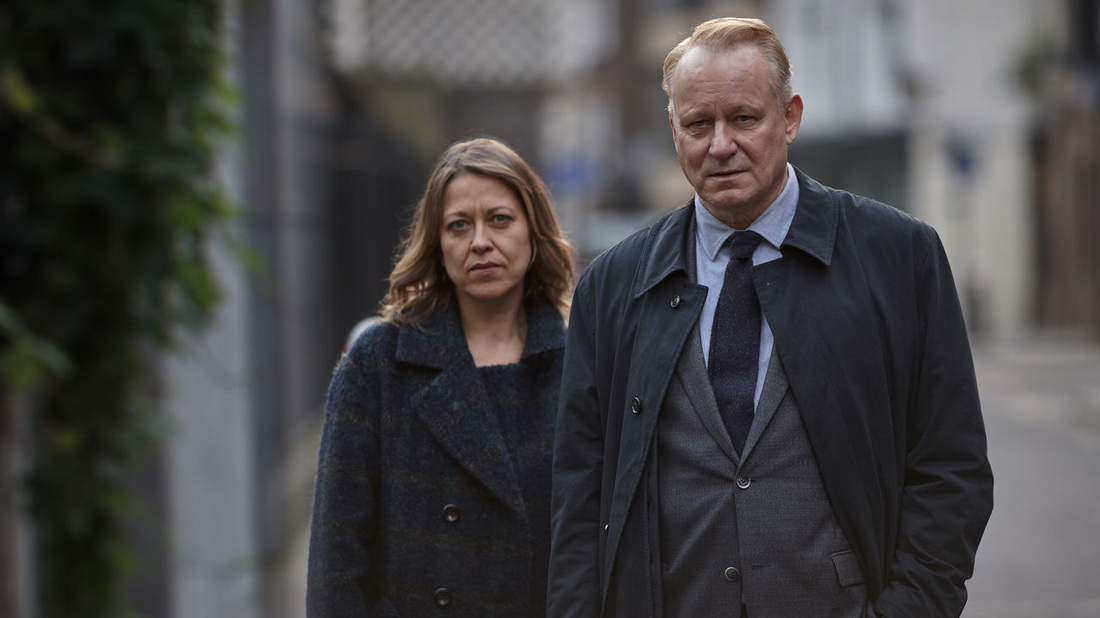 Detective Sgt. Jackie "Stevie" Stevenson (Nicola Walker) and Detective Inspector John River (Stellan Skarsgård)
Take, for example, River, a recent offering from BBC and available on Netflix. Detective Inspector John River is barking mad. If he were any crazier they'd have to keep him in a straight jacket whenever they removed him from the funny farm to investigate a case.

John sees dead people. He talks to them. They talk back. John responds physically and emotionally to them. Like I said, John River is barking mad. A nutter, as the Brits would say.

John River is the kind of cop I would have become had I pursued a career in law enforcement. I know beyond question that I would have lost all my marbles had I been a police officer. How could I not? Indeed, how could anyone keep their sanity in those circumstances, living every working hour among the worst of people? Protecting and serving? Protecting what? How many police are present at crimes. They rush, sirens blaring and lights blazing, to stretch plastic tape around a crime scene that the criminals vacated long before their arrival. Serve whom? They're despised in most communities. They're especially despised by bickering couples who turn their wrath on the very officers who have been called to prevent them from injuring one another. They're despised by minorities. They're despised by the poor. Indeed, I don't know many who like cops other than other cops (and I'm not so sure about them).

Netflix acquired exclusive international streaming rights to BBC's River This six-part thriller crime series was created by Emmy-Abi Morgan, who won an Emmy for The Hour, and produced by Endemol Shine International. Starring Stellan Skarsgård (The Girl With The Dragon Tattoo), River premiered October 13 on BBC One in the UK. All six episodes became available on Netflix starting November 18 in the U.S., Canada, Australia, New Zealand, France, DACH, Benelux and the Nordics.

In the first series (hopefully not the last) Nicola Walker (Last Tango In Halifax) plays River's colleague and confidante, Detective Sgt. Jackie "Stevie" Stevenson, with Adeel Akhtar (Utopia) as Detective Sgt. Ira King. Lesley Manville (An Adventure In Space And Time) plays their superior, Chief Inspector Chrissie Read. Eddie Marsan (Ray Donovan) plays a notorious killer who haunts River. Additional cast includes Sorcha Cusack (Father Brown) as Stevie's mother, Bridie, and Georgina Rich (Sherlock) plays Rosa, a police psychiatrist.

It takes six one hour episodes to solve the crime and solve it he does. No, I'm not giving anything away. You'll forget my promise from the first episode inasmuch as you'll doubt that what little sanity River has left will last that long.