Vietnam
WE'RE FAMILIAR WITH famous generals who rose to great office, Grant and Eisenhower being notable in that group. But, did you know that a REMF (a Rear Echelon Mother F***r) also rose to President. William McKinley was a commissary sergeant who delivered coffee and meals to the men on the firing lines at the bloody battle of Antietam?
A MODERN ARMY cannot move, shoot, or communicate without a dizzying array of intelligence, planning, and logistics. Along the way, it creates a mountain of paperwork to document, authorize, and memorialize every aspect of its operations. Every combat soldier has many needs that must be met for him to fight effectively creating a need for at least three or four soldiers to support every one in combat.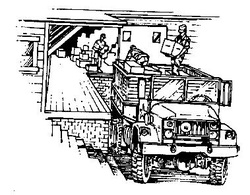 Every recruit takes the same battery of tests to measure vocational aptitudes as well as general knowledge and intelligence. The results are used to place each in a Military Occupational Specialty (MOS) to which they are best suited. The MOS list for the Army resembles a telephone directory for a large city. Other branches of the armed services have far smaller MOS listings simply because their missions are not as broad as that of the Army. Of course, errors are made in assigning recruits to an MOS and these are the stuff of legend (and jokes). However, the system works, in most cases, and those who are not tapped for one of the myriad occupations collect in one of three combat arms MOS; infantry (grunts), artillery (canon cockers), and armor (tank crews). To these men, all others who serve in the "rear with the gear" are REMF -- Rear Echelon Mother F****r.

The prejudices of combat soldiers towards REMF resemble those applied to soldiers of African descent in all wars. Despite the fact that African-American soldiers served with distinction in every American war beginning the the Revolution, they have been derided as either too inept or too cowardly to fight. Time and again their actions belied these prejudices. The exploits of black volunteers led by Colonel Robert Gould Shaw, documented in the motion picture Glory, proved their courage. General John J. Pershing earned his nickname "Black Jack" leading negro soldiers during the Cuban Insurrection where they were eclipsed by Teddy Roosevelt's Rough Riders in the press only; they were not eclipsed on the battlefield. The Tuskeegee Airmen memorialized in the motion picture of the same name, won the admiration of even the most diehard bigots during World War II. However, in every instance, they were still blacks who ultimately were treated to the same discrimination when they returned from war.

So too, REMF are considered less than real soldiers and cowardly for being assigned to the rear with the gear. And, like the blacks who served in other wars, these prejudices followed them home where combat veterans continued to deride them. Most REMF hide their service while combat veterans parade with their medals and their memories. Is it envy; REMF won the MOS lottery, and the combat soldier lost? In all honesty, the REMF cannot claim an equal share of the glory of war, but neither are they deserving of the derision they receive.

One of the itinerant combat infantry captains who came to babysit the 9th Admin Company for a while had lost half of his men in a battle with the Viet Cong. Before you judge him too harshly, let me add that the fault was not entirely his; his battalion commander had decided to deploy his entire command on line to reconnoiter an enemy deployment that turned out to be an ambush. "On line" is an attack formation usually reserved until you know your enemy's location and disposition. This captain, like most other combat veterans, had no regard for REMF and treated them with derision.

I was passing his office one day and was attracted inside by the sounds of confusion. A company vehicle had broken down on the road somewhere south of Camp Bearcat in the late afternoon and the men riding it would be in peril if left there overnight. The VC often traveled the roads under the cover of darkness and mined them in anticipation of the next day's travel by American and ARVN forces as well as civilians. Engineers swept the roads clean of mines each morning before they were "opened" to traffic.

The motor pool did not have a vehicle to retrieve our truck before nightfall and it appeared that someone would have to secure it until the next day. The captain was frantically calling for help, but no one seemed available.

He laughed when I suggested that we could do the job ourselves. His scorn was clearly evident as he laughed at the idea of clerks and cooks going out on a combat patrol and he dared me to even try and find volunteers for such a mission.

I sent runners around the company area to find anyone who was willing to go out with me to secure the truck for the night. I told them to meet me at the company HQ and bring their weapons, flak vests, and steel helmets. Within a half hour I had almost every off-duty member of the company lined up, ready to go. Cooks were armed with butcher knives as well as their M-16's. Clerks were cleaning and checking their rifles and grabbing loaded magazines of ammunition from a footlocker to stuff into their pockets. The captain stood transfixed. It was a sight beyond his imagining.

As we prepared to exit the base camp, another unit arrived towing the disabled vehicle we were on our way to defend. They had come across it by accident. There was a general sigh of disappointment from my impromptu command.

Unfortunately, the change in attitude towards the REMF was short-lived as the captain was rotated to another assignment and his replacement arrived with the usual attitude that all had come to expect from combat veterans.

Combat veterans deserve all the glory, and REMF deserve equal respect. Unfortunately, we were equal when we got back home; we were all baby killers...