THERE WERE FOUR paths to a commission as an officer in the United States Army. I say "were" because I cannot speak with authority about present practices. However, in those days, graduates from the Military Academy were commissioned as second lieutenants in the Regular Army. They were obligated to serve at least four years on active duty. It was a fair exchange inasmuch as they had been paid to attend one of the finest engineering schools in the world and their degrees as well as their commissions earned them great respect, especially in the job market. All other commissions were in the United States Army Reserve (USAR).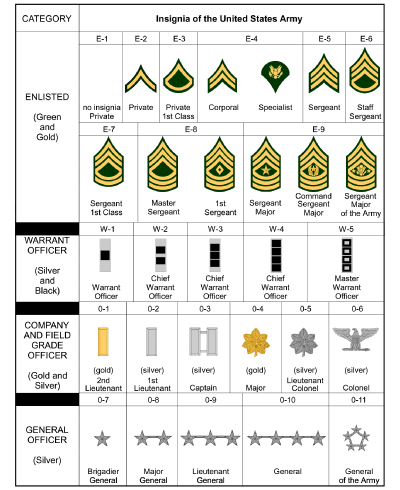 College students who participated in the Reserve Officer Training Corps (ROTC) were commissioned as second lieutenants when they graduated. (We referred to them as the Royal Order of Trained Cowards – all in good fun.)

Enlisted men found their path to commissions via Officer Candidate School. There were eight at one time. However, by the time of the Vietnam War, they had been consolidated into four that I knew of: Infantry, Armor, Artillery, Military Police, and Signal Corps.

A direct commission to second lieutenant could be awarded to an enlisted or warrant officer for exceptionally meritorious or valorous service on the battlefield. These commissions, also to the USAR, were commonly referred to as "battlefield commissions." Most were rescinded at the end of the war during which they were awarded, however, there were notable exceptions with some rising to great rank.

Direct commissions to captain were awarded to professionals such as lawyers and doctors. Whereas most commissions in the USAR carried a two-year obligation for active duty, direct commissions to these professionals carried a four-year obligation. When asked why I didn't accept a direct commission as a lawyer, I averred that I didn't want to commit to four years although taking the OCS route committed me to a minimum of three years and going the hard way through all that infantry training. The funny thing is that I ended up serving more than five years on active duty.

Truthfully, I have long harbored a notion that doctors and lawyers as well as officers in the non-combat arms, should have been warranted rather then commissioned. All warrant officers – there are four grades from Warrant Officer 1 to Chief Warrant Officer 4 (now there is a fifth level, the Master Warrant Officer) – are superior to all enlisted men and inferior to all commissioned officers. Doctors and lawyers as well as non-combat leaders could have functioned perfectly well, commanding enlisted men only, to accomplish their missions. They didn't need the special rights and privileges enjoyed by commissioned officers as agents of the United States.

During World War II, candidates were hustled through a greatly accelerated program and graduated as second lieutenants, known as "90 day wonders." At the time I attended OCS, the program of instruction lasted twice as long – 26 weeks. Eleven weeks as a Junior Candidate, seven weeks as an Intermediate Candidate, and eight weeks as a Senior Candidate. Senior Candidates were referred to as "Third Lieutenants" – an unofficial rank with power to make miserable the lives of lower candidates.

I am told that once upon a time commissioned officers were also deemed to be "gentlemen." My commission did not contain that appellation. I was merely commissioned as a officer. However, inasmuch as all officer candidates rose from the ranks, there was no presumption that any of us had been exposed to the manners of a gentleman and, thus, we were taught to deport ourselves as such. We had an unbreakable honor code that allowed neither a direct lie nor a lie of omission, known as quibbling. My fellow candidates elected me to our company's Honor Court where all suspected breaches of the code were tried. The lesson was hammered into us repeatedly that it was better to admit a mistake than cover up one. Men lost their lives and battles were lost whenever an officer lied or so much as quibbled.

It was said that you could easily ascertain the path by which an officer earned his commission by observing the number of times they "shook themselves" at the urinal. It was also said that those who graduated from OCS didn't bother. I will neither confirm nor deny. I have speculated that those who graduated from West Point may have avoided using their right hands for fear of soiling their beloved class rings.
Read Jack's novel, Rebels on the Mountain, the tale of Nick Andrews, an Army spy, who has Fidel Castro in his sights but no orders to pull the trigger. The mafia as well as the American business community in Cuba will pay a fortune for Castro's assassination, but Nick has his career to consider, his friends to protect, and a romance to sort out in the chaos of a revolution.