Election 2014
Seriously, if a person has any real talent for solving problems, building a successful business, creating jobs, why would they want to waste it in Washington?

Okay. I'll allow that they might want to serve a term or two in Congress as their civic duty.

But, who are these clowns that hang out there for forty years?

It's a good bet that Henry Waxman and other key Democrats who foisted the Affordable Health Care Act on us are abandoning ship now only because they fear voters' wrath. If they had any talent for crafting viable solutions, it's an even better bet that they never would have given us that legislation and Obama wouldn't have had the chance to sign it into law.

Actually, Obamacare is an excellent case study in how not to craft a solution. It failed at the outset because it was written without first defining the problem accurately.

What was the problem with healthcare in America before Obamacare? We could debate that subject all day. In fact, we've been debating it for a half of a century. It was the topic of debate when I joined my college debate team in 1960. It's a shame that Congress didn't before they crafted the Affordable Health Care Act.

What did Congress use to guide them if it wasn't an accurate definition of healthcare issues?

Simple.

Ideology.

The Democratic Party followed Bobby Kennedy's famous vision...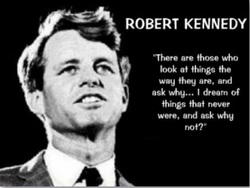 Sadly, in the case of Obamacare, we're learning the hard way,
why not
.
One of my favorite reference books,
The Search for Solutions
, remarks that "Great science is conceived at the boundary where exact observation confronts leaping imagination." The same may be said of political science.
We need a healthy dose of imagination to craft solutions to America's problems. However, we need to temper it with exact observation to insure that we don't leap into the abyss such as we are now doing thanks to Obamacare.
Keeping to our case in point, the Affordable Health Care Act should have been crafted beginning with an accurate assessment of the problems.
Did we have a problem with the provision of healthcare? No.
Did we have a problem with the administration of healthcare? Maybe.
Did we have a problem with the financing of healthcare? Yes.

So why was Obamacare crafted to address all three of these issues?
Who would have thought that a government bureaucracy was better equipped to take over the provision, administration, and financing of healthcare than all of the extant healthcare providers, administrators, and insurance companies?
Obviously, the Democrats in Washington.
Now, even Democrats in state houses don't agree. They're joining Republicans in abandoning Obamacare in their several states.
Many of the Democrats, like Henry Waxman, are abandoning their careers rather than face Democrat voters at the polls.
Only a few key Senators and the President hold out.
I'm beginning to feel abandoned. How about you?
Let's hope that we replace all these career politicians with men and women who practice the science of politics rather than the ideology of progressivism.
Of course, that depends on us, you and me, to elect people who have demonstrated a talent for crafting viable solutions rather than those whose only talent is remaining an incumbent.