ADVANCED INFANTRY TRAINING taught me what a platoon is. Officer Candidate School taught me how to lead one in combat. One other member of my training squad, Bill Downey, shared that journey but I have lost track of him. The only thing I know is that his name doesn't appear on The Wall at the Vietnam War Memorial. Thank God.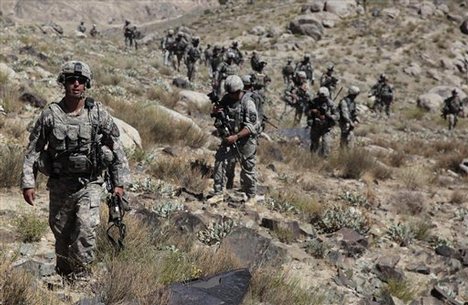 An infantry rifle platoon consists of three rifle squads and a heavy weapons squad, usually equipped with two machine guns. However, they may be supplemented with other crew-served weapons such as small caliber mortars or rocket launchers – bazookas – depending upon their situation.

The platoon is supposed to be led by commissioned officer – a second lieutenant – and a senior non-commissioned officer – a master sergeant (E7). The shortage of lieutenants and senior sergeants in Vietnam left many platoons being commanded by lower grade sergeants. I suspect that Fidel Castro had a similar problem in Cuba.

The Fidelistas were ambushed shortly after their arrival in Cuba on board the cabin cruiser Granma. Only about eleven or twelve of them survived. Since their number included Fidel and his brother, Raúl, who served as a capitán of one column, and Camilo Cienfuegos, who served as capitán of the other, and Che Guevara, the group's doctor, there were only seven or eight who had any military training and could serve as platoon leaders.

Truthfully, I couldn't find any extant documents describing the organization of Fidel's rebel band. I had to guess at it using my training and experience as well as common sense. Since the remainder of Fidel's small army, about 270 men recruited from the outlaws and outcasts who populated the Sierra Madres mountains at the eastern end of Cuba, it is doubtful that any of them could have served as leaders until they gained some training and experience. I imagined the surviving Fidelistas from the Granma serving in that capacity. They must have led them in training as well as combat.

I suspect that they trained as platoons, inasmuch as there weren't enough trained leaders to break the recruits down into smaller training units. Their platoon leaders probably led these smaller units in combat until fire team and squad leaders emerged from the ranks and proved themselves capable. Even then, I doubt if they fought very often in groups larger than squad level. They lacked the means of communications needed to command and coordinate large unit operations effectively, which is why their earliest actions were ambushes.

American rifle platoons also include a radio telephone operator – RTO – who is a key member of the team. A fighting force must be able to move, shoot, and communicate to be effective in combat. However, all evidence tells me that Castro did not have any electronic communications devices until very late in the revolution. Thus, he must have had to improvise. Inasmuch as radios have a nasty habit of failing just when you need them most, even the well-equipped Cuban army must have had the same problems (I know we did in the American Army).

Even if they had radios and they worked, there would have been other problems. The range at which military radios of that age could communicate was extremely limited in mountainous regions such as the Sierra Madres where the Fidelistas operated through much of the revolution. Thus, I believe that the rebels must have depended heavily on advance planning, and the initiative of their squad and fire team leaders to adapt to the vagaries of combat.

In the end, I believe that they prevailed over the Cuban army primarily on their initiative. Battles are organized chaos, and they're often won on small decisions made by leaders with the initiative to seize an advantage when the opportunity appears through the fog of war. The Cuban army seemed to lack the ability to seize an opportunity because initiative is usually punished in dictatorships. No tyrant wants men in power who might seize an opportunity to depose them. Indeed, Fulgencio Batista, the man Castro deposed from power, had risen because he was precisely the kind of man no dictator wants in his army.

Batista had been a sergeant, a leader of clerks. He rose to commander in chief by leading the "sergeants revolt in Cuba." Senior officers had been supporting an unpopular Cuban president, Gerardo Machado. Batista used the unrest in the population to incite the non-commissioned officers who surround a barracks where the officers had barricaded themselves. He then brought artillery pieces to their door and demanded their surrender. No, Batista wasn't about to allow an ambitious army officer – commissioned or non-commissioned – to remain in the army long enough to do the same thing to him.
In the end, his lack of competent leaders was his undoing. Remember, Batista himself was not a combat soldier. He probably wouldn't have recognized an effective leader even if he sought one. Thus, Fidel's highly motivated rebels, just 300 strong, ultimately defeated Batista's modern army of 40,000 soldiers, trained and equipped by his allies in America.
Read Jack's novel, Rebels on the Mountain, the tale of Nick Andrews, an Army spy, who has Fidel Castro in his sights but no orders to pull the trigger. The mafia as well as the American business community in Cuba will pay a fortune for Castro's assassination, but Nick has his career to consider, his friends to protect, and a romance to sort out in the chaos of a revolution.