America
It's fairly common to hear of public works projects such as prisons, landfills, and power plants meeting resistance from local residents who don't want them in their backyard, but a cemetery for service members and veterans? Yes, it seems that some residents of the City of Irvine don't want a national cemetery sullying their new park, the Orange County Great Park, being built on land that once was home to the El Toro Marine Corps Air Station. Yes, this is the same city where the student body of a University of California campus voted to ban display of the American flag, thus we shouldn't be too surprised.


These citizens of Irvine purportedly are speaking out against the cemetery in their backyard because:
The sight of it would upset their children attending a nearby high school


The embalming fluids of the corpses would pollute the land


Their property values would suffer


Some of these citizens in
unguarded discussion
on the Internet have opined that the cemetery would adversely affect the
Feng Shui
of their park and, more callously, that it should be re-sited to a garbage dump.
As a Vietnam Veteran, I am going to speak in support of their opposition. We should move the proposed cemetery elsewhere.

My first assignment in Vietnam during my tour of duty, 1967 to 1968, was as Chief of the Casualty Reporting Section of the Adjutant General's Office of the 9th Infantry Division. One of my duties was to speak for the dead. I wrote to their next-of-kin telling them how their loved ones died and making some attempt to comfort them. It's not a duty that I ever wished to repeat, but now it seems I am once again called on to speak for the dead, and it is my belief that they don't want the City of Irvine in their backyard.

Why would they want to repose for eternity where they aren't wanted?

Why should they loiter among people who don't respect their sacrifice?

Why would they want their remains to be dishonored by people who are offended by the flag that they fought under?

How could they rest in peace surrounded by those who wish to surrender the liberties that they fought to preserve?

Within hours of posting news of this controversy on the Internet, other communities stepped up announcing that they would be proud to have the cemetery located in their communities. They are, of course, mostly located in fly-over country where, unlike coastal California, patriotism still runs in the veins of true Americans.

---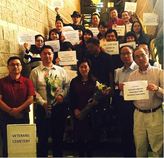 "IRVINE – In less than a decade, runways where fighter jets once lofted Marines into the air could become acres of green grass dotted with white headstones marking the Southern California Veterans Cemetery.
That image, for many veterans and their families, provides comfort.
But for a group of Asian residents that live near Irvine's Great Park, the image is appalling – any cemetery would violate a strong cultural taboo of living near the dead..."
[Read the complete story in the Orange County Register]