Blogging
WE COULD MAKE A CAREER out of reading all of the analytics available to help us analyze traffic at our websites/weblogs. I suspect that you, like I, have far better things to do with our time. Thus, I am going to show you the key indicators that I follow. There are probably more that I should be paying attention to, and I'm sure someone will comment below to tell me about them. So, let's just say that I'm getting the conversation started.

A fascinating though apparently useless map provided by Google Analytics showing countries where visits to my website/weblog originated. The intensity of the shading reflects the number of requests. Point to a country and it displays the number. (Click to enlarge)
I don't know about your website/weblog hosting service. I use iPage. This is not an advertisement for them but I could easily write one. They provide me with full access to the server log entries relating to my website/weblog (my weblog is embedded in my website). I can request an updated report at any time and the server will compile the latest entries for all requests for webpages as well as XML feed from my website. Thus, I can see up-to-the-minute rankings: Which pages are popular and which are not. I use this information to help me decide what topics I should be emphasizing and which I should probably avoid.

However, there are some things that server logs don't tell me. How long are visitors reading the pages that they request. What is the bounce rate (the number of visitors who leave my website/weblog after requesting a page). Google Analytics provides me with these types of information and more.

Remember, there are some analytics that only the server can provide, for example, the number of requests received for blog feeds. A feed is not a webpage. It is an XML data document providing all of your blog postings (or a selected portion of the most recent ones) arranged in a structured format. A feed reader on the users computer workstation displays the data in a readable format. Since the XML data document is not an HTML webpage and does not contain the code required to send analytical data to the Google data processing center, Google Analytics has no visibility of this activity.

Likewise, there are some analytics that only Google can report, for example, how long does a webpage remain on the users computer workstation screen (from which we can assume whether the user merely glanced at it or read it in detail). Once the website/weblog host server returns a webpage in response to a request, it loses track of it and cannot report this information.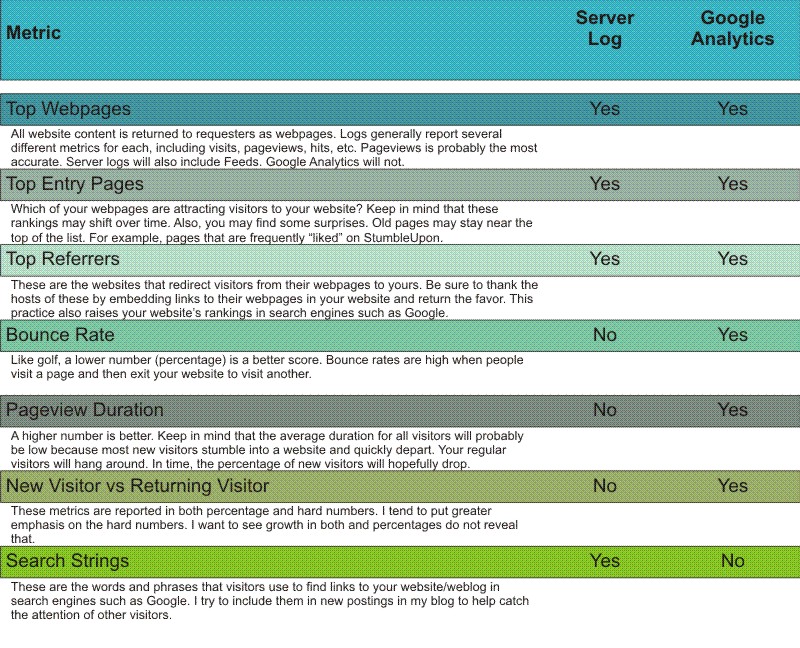 Key indicators and their sources. Remember, these reflect server logs available from iPage. Your website/weblog host may offer different ones. (Click to enlarge)
There are two ways to look at your analytics: (1) How well is your website/weblog performing compared to others, and (2) how well is your website/weblog performing compared to itself. I have no idea of how well other websites/weblogs are performing compared to mine. I'm certain that those hosted by major corporations and government agencies attract infinitely more visitors than mine. Likewise, I'm certain that best selling authors fare a lot better. But, what about websites/weblogs maintained by other undiscovered authors? I used to worry over how well I was doing compared to them until I realized that it didn't matter. I became more interested in tracking the effect of my content, especially blog postings, on visitor metrics: Which pages were most popular, not only on the basis of the number of pageviews, but also, the length of time they spent reading them. Furthermore, I became concerned with the bounce rate, that is, how many visitors stuck around to read more than one page. I assume that they must like what they are reading if it inspires them to read more. This is the kind of information that helps me fine tune my content and, hopefully, become more successful.

What does success mean to me? Becoming discovered as an author and selling books. How well is that working out for me? Tune in next week.

Check with your web hosting service to learn what analytics they offer. The chart above is based on those offered by iPage and may not be the same for you. Also, keep in mind that Google Analytics provides extensive help and training in applying analytics to better manage your website/weblog. You may want to check these out.