America
In his new film, America, Dinesh D'Souza examines our love of country. He quotes Edmund Burke who famously said, "To make us love our country, our country ought to be lovely." D'Souza then purports to apply this test to America.

D'Souza has his point of view. Now, let me tell you another story...

I am the grandson of immigrants. Both of my parents were born in America of parents who emigrated here in hopes of building better lives. My mother's came from France and England. My father's came from an obscure village in the Carpathian Mountains, in a region then ruled by the Arch Duke Ferdinand of the Austro-Hungarian Empire, today known as Slovakia. They were Slovaks. All became coal miners in the mountains of Pennsylvania.

I know little of my mother's heritage. She was disowned by her family for marrying beneath her station even though they too were coal miners. Thus, I can only report on my father's history.

My father's family was dirt poor. They had no closets, cabinets, or cupboards in the home where he grew up. There was nothing to store in them. Indeed, the house itself was merely rented to them by the mine owner in exchange for their labor. A nail on the wall was sufficient to hang their clothes when they went to bed.

Father was afforded just a few years of elementary education before he was required to go to work in the mines as a breaker boy toiling over a rapidly moving belt where he helped separate the slag from the coal. In time, he became a mule skinner, leading the animals that pulled coal carts from the bowels of the earth. It seems a life with little hope of escape. Although it seems a bleak existence, the miners struggled to survive.

For example, my father told me how wives would pack extra bread in the miners' lunch pails. The miners would break off a small piece and place it nearby. If the bread didn't disappear, it was time to escape the tunnel because it was assumed that the rats, the ones that regularly stole the bread, had abandoned the hole and the miners should follow. Interestingly, to this day, I am compelled to follow every story of trapped miners. I feel a bond though I escaped their fate.

Ultimately, my father escaped the mines by becoming a prize fighter, a barroom bouncer, a cab driver, and then a mechanic. He moved south to Baltimore and found employment as a maintenance machinist at the Lever Brothers plant. In time, he obtained his high school diploma, a college degree, and then graduated from law school. With his education completed, his fortunes rose until he could build a custom home on Chestnut Ridge north of Baltimore, overlooking the Worthington Valley where moguls bred some of the world's finest racing thoroughbreds. The distance between this poor son of coal miners and the wealthy grew very small indeed.

That is the America I grew up in. That is the America I love. How could I not? Unfortunately, the progressives launched a war on poverty and poverty won. As recent surveys prove, upward mobility such as experienced by my father, is becoming an ever distant dream. The great irony is that the disparity between rich and poor that progressives decry, is becoming greater ever since progressivism hamstrung the system that afforded my father and other Americans upward mobility.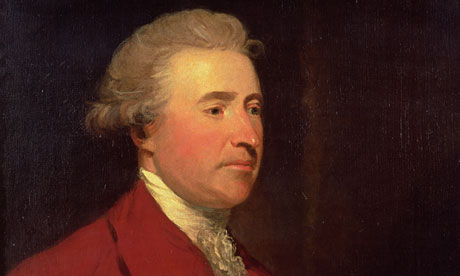 Edmund Burke [b. 1729 - d. 1797] Irish statesman, author, orator, political theorist and philosopher
The more we read Edmund Burke's thoughts, the better we see our present plight...
Nobody made a greater mistake than he who did nothing because he could only do a little
The people never give up their liberties but under some delusion
When bad men combine, the good must associate; else they will fall one by one, an unpitied sacrifice in a contemptible struggle – Thoughts on the Cause of Present Discontents
Those who have been once intoxicated with power, and have derived any kind of emolument from it, even though but for one year, can never willingly abandon it.
Bad laws are the worst sort of tyranny.
The true danger is when liberty is nibbled away, for expedience, and by parts.
All government, indeed every human benefit and enjoyment, every virtue, and every prudent act, is founded on compromise and barter.
...Does any of this sound familiar?