Opinion
ARE YOU OUTRAGED about something? Are you tired of waiting for someone else to do something about it? Are you prepared to fail? Most likely, you will fail to get your revolution off the ground and, even if you do, it will likely fail to achieve the results you want. Does this mean you shouldn't try? Quixotic struggles are among the most legendary, if not satisfying.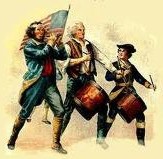 Every revolution has one major hurdle to overcome: to build a cadre of revolutionaries. You don't need everyone in a segment of society to rebel; hell, you don't even need a majority. But, you need a significant number to overcome the inertia of the status quo. The remaining population, probably one-third to one-half of your fellow citizens will choose to sit on the fence and complain regardless of the result.

Thus, your first task is to find others who share your outrage. It is far, far easier to join with others who are ready to revolt than it is to ignite the spirit of revolution. Fortunately, the cybersphere makes this task far easier than it once was.

Once upon a time you had to leave the comfort of your home and wander the streets looking for a mob carrying pitchforks and torches, check to make sure they were on the same side of the same issue that drove you into the streets, and then add your voice to their chorus. Historical examples include the Boston Massacre and the Storming of the Bastille. (Oh, did I mention that there was some risk involved in revolutions?)

Modern mobs are able to form much more quickly and efficiently, and even organize themselves before they hit the bricks. The Tea Party in America and the phenomenon in the Middle East referred to as the Arab Spring are excellent examples. The Tea Party is like a Flash Mob in that it came into existence almost without warning and its members participate without pay for the simple joy of contributing to something greater than its individual members could affect.

A leader of the cyber-revolution, Matthew Reinbold, made a short presentation at the Salt Lake Ignite Conference wherein he advocates using the communication and coordination potential of the cybersphere to create what I would term mini-revolutions, employing tribes of people who share a specific outrage or vision to solve society's problems.

I came across a link to this presentation in the
Kings of War
blog, a group that shares my interest in revolutions, insurgencies, and insurrections.
David Betz
, the author of the
posting
there came away from Reinbold's presentation with concerns. Among them:
"... what is unclear is the ideology, the set of beliefs in the population about changing some elements of the structure and/or reward distribution of a society, which might serve to focus the abundant dissatisfaction with the status quo to which Reinbold is reacting. What are the 'sunlit uplands' towards which he imagines people striving? If you could identify it would you fight it or join it? I think the reason that 'revolution' seems in the air is that even a middle-aged, middle-class, mortgage-owning, 'establishment' figure like me needs to pause to ponder the answer to that."
I believe that the Tea Party provides ample evidence that even "middle-aged, middle-class, mortgage-owning, establishment figures" like Dr. Betz can be motivated to leave the comfort of their couches and rally for a worthy cause.
One of Dr. Betz's other concerns was the Janusian quality of this environment; that it could have a subversive side. Interestingly, almost every person who rebels will be mirrored by one who will join a counter-revolution. (See
With Little Less Than Savage Fury
, published in American Heritage Magazine.) Keep in mind that modern counter-revolutionaries share the same advantages in coordination and communication as those they oppose. For example, George Soros and others have dedicated vast portions of their personal wealth to maintaining the status quo in American politics that the Tea Party is struggling to overthrow with unfunded citizen action groups. Unfortunately for Mr. Soros and his friends, history tends to fall on the side of the popular revolt versus wealth.