Vietnam
THE NEXT OF KIN of every 9th Infantry Division casualty received three letters: one each from the unit commander, the division chaplain, the commanding general. There were probably others, but these were the only ones for which I was responsible.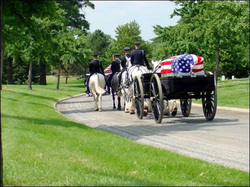 During the six months that I was the division casualty reporting officer, only one letter reached me from a unit commander to be sent to the next of kin of one of his men who had been killed. It was beautifully written, but badly handled. I had it retyped and personally carried it back to the commander in the field for his signature. I also made sure that commanders at every level were aware of it.

Personal letters written by unit commanders were highly unusual because of the nature of the Vietnam War. They were in combat 240 days out of each 365 day tour of duty versus only 40 days for soldiers in the South Pacific during World War II. The mobility of helicopter and riverine transport made the difference.

Similarly, I can excuse the Commanding General for not writing his own letter of condolence inasmuch as he was responsible for combat operations spread out over several thousand square miles of the Mekong Delta. However, unlike other forms of official correspondence and documents, he insisted on personally signing each letter of condolence. I cannot make any such excuse for the division chaplain. I had to sign his letters as well as write them. I even had to find a non-denominational biblical passage to include.

Several years ago, my family visited the Ronald Reagan Presidential Library in Simi Valley, California, and, about midway through the tour, my wife found me weeping in a corner. I had been listening to a recording of Reagan speaking about his love of his ranch where he vacationed as President and entertained notable visitors including the Queen of England. He said that the vista there reminded him of his favorite biblical passage:

"I will lift mine eyes unto the hills, from whence cometh my help.
My help cometh from the Lord, which made the heaven and the earth"
– Psalm 121

It was the same verse I had chosen to include in the chaplain's letter of condolence.

Every letter had to be typewritten perfectly. Erasures were equally forbidden along with errors. We feared that the next of kin might interpret any error as evidence that we could have made other mistakes, such as misidentified the remains, and that the person in the casket might not be their loved one. Of course, we frequently sought to discourage them from viewing the remains, inasmuch as battle casualties often suffered traumatic amputations and mutilations.

Interestingly, my best typist was a young man who seemingly should never have been drafted or recruited. His mental acuity was severely disabled. However, he was diligent in his duties, never distracted, and rarely made an error let alone allow one to reach me. I wish I had more like him.