Good Read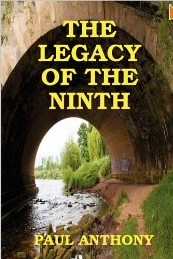 by Paul Anthony The author almost lost me in the first chapter with an errant cultural reference- he confused the Menorah with the Ner Tamid and sustituted "kill" for "murder" in the Commandment. (Yes, I'm that picky.) But, I pressed on and he didn't make any such error thereafter. Boy, am I glad that I did.

I began reading The Legacy of the Ninth thinking that it was a story of the Roman Empire, but was not disappointed when it morphed into present day England where an artifact carried there from the Middle East by the Ninth Legion is uncovered. Its discovery becomes the catalyst for a new battle in the continuing conflict between Arabs and Jews.

Paul Anthony populated this story with a host of three-dimensional characters engaged in the conflict from different venues, England, Istanbul, Lebanon, and Israel. One in particular, a British policeman reassigned from undercover work in London to leading Bobbies in Cumbria, faces the daunting task of reigniting pride in a group that has been allowed to languish in mediocrity. This challenge alone would be sufficient foundation for a good story. In The Legacy of the Ninth, it is but one facet of a complex tale with plots within plots.

Lastly, I was pleased with the author's style. Thank God, I read it on Kindle and had a copy of the Oxford Dictionary built in to help be with the language (I am American and don't speakEnglish). That aside, Paul Anthony varies his pace, lingering on details to establish the milieu, and racing ahead with action to make it exciting.

Yes, I can recommend this one without reservation.