Opinion
IN THE ARMY we were taught to salute anyone wearing the Medal of Honor. We weren't saluting the man or his rank. We saluted even if the wearer was of an inferior rank. We weren't saluting the medal. By saluting, we were honoring the act of valor. It's an important lesson even for those who haven't served.

There's a risk in honoring heroes. They're fallible. Think about it. Even the Biblical heroes made mistakes. Moses was denied permission to enter "the promised land" because, despite leading his people out of bondage, he allowed his anger to overcome his commitment to carry out the errand God had assigned him. Noah became a falling down drunk after preserving all of God's creatures from the flood. Saints are the heroes of the Catholic church, and everyone of them had feet of clay. Sports heroes? Political heroes? Celebrities? If I have to explain their foibles to you, you may as well stop reading here. You aren't going to understand much of what else I have to say.

Thus, there is a certain wisdom in the Army's attitude towards heroes. We would do well to bear it in mind when we choose one.

A hero is someone we emulate, sometimes successfully, often not. I've tried to be careful. I grew up with heroic figures all around me. I had war heroes, especially from World War II who committed acts of indescribable valor while saving us from the Axis. I had cowboy heroes, who saved the girl, kissed the horse, and rode off into the sunset. I had my father, a man's man – intelligent, courageous, handy with his fists (he was a prize fighter in his youth), and always ready to help out anyone in need, except his family. That was the rub.

My father taught me to be careful in choosing a hero. He was such a good candidate, but seriously flawed. Abusive to his family. Intolerant to anyone or anything "different." However, he did leave me with a few ideas on what I should look for in a hero. You see, my father was popular, at least outside of his home, and that taught me to distrust popularity.

Not only am I not impressed by popularity, it often makes me leery. Indeed, a hero in my world should have the guts to stand up against what is popular. Now, this test is very difficult to administer. There are idiots everywhere ranting against whatever is popular in this moment, and you don't want to end up emulating an idiot. No, they have to be willing to take on the popular cause or the popular personality, and be right.

Causes come and causes go. So do popular personalities and ideologies. Thus, if you follow my lead you will find that your hero of one moment may not be heroic in the next. You have to be prepared to choose a new hero at the drop of the hat.

It helps if your hero is dead, especially if he or she was being truly heroic at the time of their death. For me, that man was Walt Kelly.

"Who the hell is Walt Kelly?" I hear you cry. He's the creator of Pogo.

Don't ask. I'll tell you. Pogo was a humble possum, the star creature of a comic strip set in the Okefenokee Swamp during the 1940s and 1950s.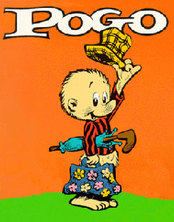 Walt was an artist. He worked at the Walt Disney Studios as an animator during the making of Pinocchio and Fantasia. He resigned at age 26, and went to work at Dell comics where he first created Pogo and friends who waxed political and philosophical.

I was a very strange child. My sense of humor was very adult. I suppose it's safe to say I'm equally strange as an adult. My current sense of humor is very juvenile. In any event, as a child, Pogo was my favorite comic strip. By that time, Pogo was appearing daily in our newspaper.

I was also politically aware as a child and had no problem recognizing the barbs that Walt was casting in the direction of Senator Joe McCarthy, at a time when the belligerent politician was conducting witch hunts to ferret out any communists who had infiltrated our society. Apparently, Joe wasn't as smart as this prepubescent boy and misjudged the damage that Walt was doing to his reputation and status.



Senator McCarthy hurt a lot of people. Amazingly, he was correct. Communists were infiltrating our society and working hard to weaken it. Unfortunately, Joe felt that any tactics were fair when pursuing communists. Too bad he hadn't heard the words of Sir Thomas Moore in Robert Bolt's play A Man For All Seasons, written for BBC radio in 1954, when Joe and his Unamerican Activities Committee was doing its damage:

---
"What would you do? Cut a great road through the law to get after the Devil? ... And when the last law was down, and the Devil turned round on you – where would you hide, Roper, the laws all being flat? This country is planted thick with laws from coast to coast, Man's laws, not God's, and if you cut them down -- and you're just the man to do it -- do you really think you could stand upright in the winds that would blow then? Yes, I give the Devil benefit of law, for my own safety's sake!"

---
McCarthy obviously wouldn't give any man the benefit of the law while pursuing his devil, and destroyed people's lives and careers with rumor and innuendo. He hauled them into public hearings and then used his influence to have them blacklisted so that they couldn't find any work in their industry. Few were ever formally charged, tried, and convicted of any crime other than guilt by association.

Ultimately, Senator McCarthy's downfall came when he turned his sights on President Eisenhower and the United States Army. Ike sent word to the Senate to put an end to the hunt for communists, and Edward R. Murrow, a popular television commentator of the time, castigated the Senator in a coast-to-coast broadcast. McCarthy had only one friend left, his fellow Irish Catholics, the Kennedy's, but not even their wealth and power could save him.

However, long before McCarthy was censured, Walt Kelly had been going after him. His editors were loathe to publish Pogo comic strips when a snarling bobcat character, Simple Malarkey, an unmistakable caricature of Joe McCarthy, put in an appearance. But Pogo was too popular to be omitted.

J. Edgar Hoover was another of Walt's favorite targets. The FBI chief, a man even Presidents feared, went so far as to task his cryptologists with breaking the "code" in Pogo's nonsensical ramblings. He was certain that they contained secret messages.

For his part, Walt Kelly explained simply that he would go after anyone on the extreme right, the extreme left, or the extreme middle. Ultimately, he was extremely funny and extremely brave – good recommendations for any hero. He certainly qualified as a hero of mine.