Sea Scouts
JUST ABOUT EVERY yacht club in Maryland had slot machines during the 1950s when I was a Sea Scout. You could also find them in stores and bars in the out of the way places around the Chesapeake Bay even though they had been outlawed some time after World War II. I'm not sure when. I haven't been able to find any citations to help me along in my research.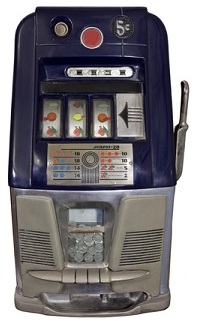 I don't think there was ever a time that Maryland didn't have parimutuel betting. The race tracks at Pimlico, Timonium, and Laurel are historical institutions. But, the state also had casinos. The corridor along US 301, between Baltimore and Washington was an east coast version of Las Vegas.

The law seemed to look the other way at private clubs when it shut down operations at the public establishments, for a time. I didn't see any slot machines after 1962. I remember that year specifically because our pre-law class once partied at Kurtz's Pleasure Beach at the confluence of the Patapsco River with the Chesapeake Bay. (I was surprised to find it on Google, still in operation.) One old lady, not a member of our class, nearly knocked me to the floor with her hip when I accidentally stepped up to play one of the four one-armed bandits that she was playing simultaneously.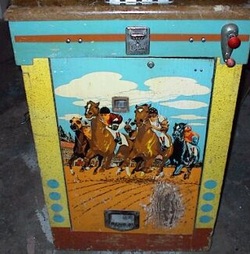 We also found an occasional pinball machine that paid back coins instead of free games for large scores. They were distinctive in that they didn't have legs. The base extended to the floor and contained the payoff mechanism. One of our crew, Jim Urch, seemed to have a real talent for them. There was one at a dockside store on Deal Island that he played from the time we arrived until we left except at night when the store was closed. I loved the sound of it paying off. Cachunk-cachunk it spit out the coins, nickels, one-at-a-time. Jim ignored it and let them accumulate in a bin at his feet. He was a young man with a purpose and I think he may have emptied it.

No one seemed to care that a bunch of teenaged Sea Scouts played the slots. We waited for the adults to tire of them and then stepped in. Dunaway Walker, the yacht club's resident storyteller, who frequently cruised with us, would stand at our backs lecturing on the evils of gambling as we played. I liked his company. I invariably won under his scrutiny. He was my good luck charm, I guess. It must have vexed him, especially when I would leave and he would step up after making sure not one was watching. He would feed a couple of coins, lose, and then stalk off certain that no good would come from playing them.

My most intriguing experience with the slots came one year when a guest on one of the yacht club boats won a jackpot at every port. We became his stalkers trying to figure out what he was doing. We discussed the way he put in the coin and pulled the lever. We watched what he did with his hands as the dials were spinning. Nothing. Finally, I happened to be waiting on the porch of the boathouse at Solomon's Island, for my turn in the shower, when he arrived and won his usual jackpot. He then placed a long distance telephone call using the pay phone. He talked a long time and the operator frequently interrupted him to insert more money.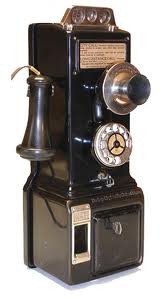 Let me pause to explain something for those of you who have never used a phone in the days before cells and direct dialing. My mother was a long distance operator and had explained this to me. The money he was depositing was being held until the operator sent a signal for it to drop into the coin box. This man struck the phone on the dial, just so, as he hung up and all his money came spilling out the coin return slot. He collected it and left.

The phone rang shortly thereafter. It persisted ringing until I went and answered it. It was the operator asking for the man who had been talking on the telephone. I'm sorry, I didn't know where he had gotten off to. He definitely knew something about coin-operated machines.