Oh-dark-thirty
Whenever I feel down, when the checkbook is as bare as Mother Hubbard's Cubbard, I have one memory that helps carry me through. It's the day I bought my 1969 AMC Javelin.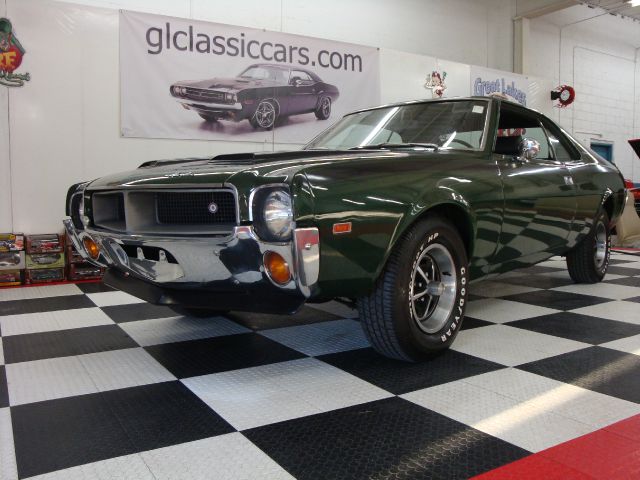 I stopped off in Hawaii following my tour of duty in Vietnam before taking a week of leave to prove to my mother that I was still alive. I rented a Datsun 510 sedan at the Hertz desk at Honolulu International Airport and drove it to Tripler Army Medical Center where I was assigned to be the Officer in Charge of Special Services (Post theater, craft shops, sports facilities, etc). The car impressed me and I purchased one to be delivered on my return from leave on the mainland.

That car didn't disappoint me. It was fast and handled like a sports car. It was everything I could want except a "babe wagon". Here I was, a young bachelor officer, living in paradise. Truthfully, I didn't think about it until a senior officer at the hospital began kidding me about it. I suppose that is why this story took an unexpected turn.

I was shuffling papers at my desk one day when one of the enlisted men in my command rushed into my office and announced, "You've had an accident, sir."

Reflexively, I looked down at myself to see what had spilled.

"No, no, sir," the young man explained. "Your car. You've had an accident."

Now I was truly bewildered. I hadn't had an accident. My Datsun was parked in front of the post gymnasium/bowling alley/pool complex where my office was located.

"Sir," he insisted, "you've had an accident."

I followed him outside to discover that I really had an accident. Another officer, a captain, had parked his Volkswagon Beetle on the hill above me and it slipped its parking brake. It had rolled backwards almost hitting the captain as he walked towards my facility, jumped a curb, avoided a huge Monkey Pod tree, then slammed into the side of my car.

In those days, you had to obtain three estimates and submit them to the insurance company before having the car repaired. The next day, I spent the morning on this errand. I had two in hand when lunch hour rolled around. I stopped at the dealer where I had purchased the Datsun for the third estimate and was informed that the service manager was the only person authorized to write estimates and he wouldn't return until after lunch. Given that everyone worked on Hawaiian time, I might be waiting several hours.

I'm one of those people who paces as he thinks. Thus, I found myself in the dealer's showroom as I considered my options. A young salesperson interrupted my thoughts asking if he could be of help.

To this day, I have no idea how it happened. I pointed and asked, "Do you see that car?"

The young man followed my direction and responded, "Yes, sir."

"Can you have it ready for me by next Wednesday?"

"What?"

"That car," I said still pointing.

"What color?"

I took him by the wrist and walked him to the car. "Can you feel this car?" I asked.

"Yes, sir."

I think he was worried at this point. I'm not sure. I wasn't paying attention.

"This is now my car."

I handed him my card and said, "You sold me that Datsun," I said pointing towards the service area door where my car could be seen parked. "That's my trade in. Don't worry about the damage. The insurance company will pay to have it repaired. It will be my down payment."

"Yes, sir," he replied, hesitantly.

I left.

The following Wednesday, a friend asked if I was going to pick up my car. Actually, I wasn't sure if I was. The whole incident seemed like a dream. I shrugged in response and decided to drive to the dealer and see if I had actually purchased it.

When I arrived, the salesperson was waiting. I believe his manager had rehearsed him in case I actually showed up. He sat me down in an office where all the paperwork was laid out. I signed. Transfered my personal effects from the Datsun, and drove away in my brand new 1969 Javelin.

It was a beautiful car. Even by today's standards. It was too much car to drive around the island, but I wasn't alone in that. Hawaii 50 had appeared on television and everyone else was buying Dodge Challengers with big block V8 engines. We all chugged around the island with our engines collecting soot. There wasn't a stretch of road where you could really run them at high speed and clean them out.

To this day, I don't know how much I paid for that car. What they allowed on my Datsun as trade in. I had a payment book and paid something each month. It seems that there were 36 payments of approximately $100.

Have you ever been that impulsive in your life?