Oh-dark-thirty
ULTIMATELY, ALL REVOLUTIONS are rooted in ideological conflicts. The historical record clearly demonstrates that differing goals and expectations, and differing strategies for attaining them simply cannot coexist in close proximity. People are so defensive of their ideologies that they seem intolerant even when these differences are simply differences in perception. Well, that's my humble opinion.

"You have your ideology and I have mine." – Khalil Gibran

The Soviet Union was no more communistic than the United States is capitalistic. No, the two nations weren't separated by politics as much as they were by ideology – collectivism versus individualism. Even there, the lines of demarcation are muddy. Generally, both societies prized conformity within accepted rules of collective behavior and both were greatly influenced by the contributions of successful individuals whose behavior did not always conform with collective standards. However, whereas individuals such as Stalin tended to become embedded in positions of power in the Soviet Union for extended periods of time, such individuals were only marginally tolerated in the United States for brief periods. The only person who approached perpetual power in the United States was Franklin Delano Roosevelt, and the example of his tenure as President was largely responsible for the rise of term limits for that office.

Despite this evidence, the specter of collectivism incited fear in the United States and the specter of individualism incited fear in the Soviet citizenry. Thus, there seemed to be a cognitive dissonance between people's ideology and their behaviors in both societies. Their fears gave rise to the conflict that existed between them – a conflict that was frequently expressed in armed conflict. However, since the prospect of Mutual Assured Destruction if the two engaged in direct armed conflict was so frightening, they confronted each other using client states. Vietnam and Afghanistan are prime examples.

"Once a person has killed other people on behalf of an ideology, he becomes rather devoted to it." – John McCarthy

All peoples have killed on behalf of their ideology, however no side has killed more of their own citizenry than the communists. The collective arms of all communist nations are heavily notched with tallies of the dead. More than twenty million in the Soviet Union under Stalin - even more later. More than fifty million in China just under Chairman Mao - even more later. Almost two million in Cambodia by the Khmer Rouge. To be fair, none of this murder had anything to do with communism, it was for the sake of eliminating any and all who those in power feared. In short, it was the murder of potential non-conformists to preserve the collective and insure the survival of the individuals in charge.

Interestingly, the two nations with the lowest body counts when they became communist enclaves were Vietnam and Cuba. The relative ease with which citizens were able to escape these two nations and find sanctuary in the free world is largely responsible for this outcome. (I'm sure that the boat people of both countries will take exception to my statement, but please note that I did qualify it as the "relative ease.") People such as General Giap and Che Guevara would have been only too happy to have executed them had they stayed.

Those in power in the United States have no expectation of remaining in charge. They accept the end of their tenures in office and exit gracefully, leaving the heavy responsibility of making decisions on behalf of the collective on someone else's shoulders. The collective allows them to escape office only because there is always someone foolish enough to voluntarily accept this responsibility. Indeed, many clamor for the position – the fools – and expend great effort and wealth to win it. Lacking such a ready supply of leadership replacements, incumbents might become prisoners of their adoring constituencies.
"It did not occur to us that the Marxists' solution was fraudulent or that their vision was distorted, that whatever the wrongs in our society it was not the ideology of theirs that will cure them." – Barbara Amiel

Ultimately, communism failed everybody. The theories of Lenin and Marx might have succeeded given sufficient time for people to evolve to a level of social conscience to labor enthusiastically and contribute using the best of their abilities for equal rewards in a classless society. However, it never took root in its theoretical form. Classes did evolve in communist countries and the greatest rewards went to the most ruthless. Recognizing the futility of their situation, "people pretended to work while their government pretended to pay them" and any chance of "all contributing according to their ability and receiving according to their need" was lost.

With the demise of the Soviet Union, the economies they had artificially propped up to create the illusion of success, collapsed. Recently communistic countries such as Vietnam and Cuba suffered the worst because they had not had time to develop any sustainable economic institutions of their own.

"To defeat the aggressors is not enough to make peace durable. The main thing is to discard the ideology that generates war." – Ludwig Von Mises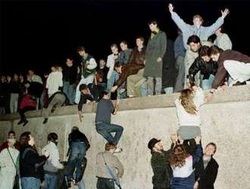 The Cold War ended because people abandoned the politics of communism. Unfortunately, the ideology underpinning it will remain until another generation dies off. Until then, there will always be a large population pining for "the good old days" of heavy-handed authoritarian leadership. Hopefully, more recent members of the communist world such as Vietnam and Cuba will not require so long a delay before fully adopting a more successful ideology.

The greatest threats to peace now seem to emanate from theologically based ideologies. Unfortunately, there are theologies that generate war. Historically, almost all theologies have had periods during which they generated war. Certainly, Judaism and Christianity have seen their bellicose eras. God may have given Judea to the Israelites but they had to clean out previous tenants before they could occupy it. The Christians survived persecution in their formative years and then spent several centuries practicing the art on others as it had been practiced on them. Even today, not all swords have been beaten into plowshares and pockets of armed theologians scour the countryside, even their own ranks, for non-believers. However, for generating today's armed conflicts, no group can top Muslim extremists.

"No mother would ever willingly sacrifice her sons for territorial gain, for economic advantage, for ideology." – Ronald Reagan

Ronald Reagan obviously overlooked the fact that many ideologies are rooted in theology or he never met a Muslim mother of the extremist persuasion. Islam is a theology. Muslim extremism is an ideology rooted in a theology. It perceives all non-believers as threats and seeks to destroy them to preserve the purity of not its religion, but rather its interpretation of that religion and its intolerance to all other ideologies.

Interestingly, Islam was insulated from outside threats through most of its history because its adherents lived in areas that no one coveted. Isolated from the rest of the world, they preserved their culture as well as their religion. During this period they were among the most tolerant of peoples. The Jews in particular enjoyed their greatest freedom and autonomy when they resided in Muslim-dominated cities during the diaspora. Even when outsiders began drilling in their lands for oil, Muslims remained on the sidelines largely unaffected by the non-believers.

However, once modern communications began exposing their women and children to foreign images and ideas, and they began adopting western ways, Muslim clerics recognized that traditional values and mores were under assault and they began to fight back. Unable to lure their people back into the fold through reason or faith, they turned to attacking the outsiders who, in their eyes, had stolen their children.

"Learning is always rebellion... Every bit of new truth discovered is revolutionary to what was believed before." – Margaret Lee Runbeck

Nothing is more fearful to people than their children renouncing their parent's ideology or theology. Both are based solely on belief and thus indefensible through reason. They may only be enforced through blind acceptance.

Thankfully for parents, most children accept their parent's ideology and theology with only brief lapses during adolescence. But a few, like me, rebel in depth casting off the mantel their parents have prepared for them and reinventing themselves in a new image. My rebellion was rooted in my education.

I did not receive my education in any school. Indeed, I found school to be suffocating, filled with teachers trying their damnedest to prevent me from thinking for myself, and training me to regurgitate predigested meals of knowledge and opinion. I questioned all authority figures.

The problem was that my father, a bully and a tyrant, inured me to authority figures. In a sense he did me a favor. Had he been a more reasonable person, I might have simply accepted his prejudices and lived according to them as did my brother. Now, in my later years, I truly appreciate the youthful sense of wonder and adventure that still guides my life. It also taught me the power I had over my father. By rejecting his ideology, I assaulted the security of his belief system.

I hope this explains my interest in revolutions, insurrections, and insurgencies. I have always felt more comfortable among the outcasts and misfits such as Jefferson, Adams, Franklin, and Washington, as well as Castro, Guevara, Mao, and Ho. Even though I may disagree with the latter three, I still feel a kinship with their spirit