Blogging
I ATTENDED A WEBINAR last week about making a blog more visible. Of course, that means that I sat in front of my computer, and watched and listened to it. I guess you could call that "attending." I learned a couple of things about hyperlinks that seemed pretty important, and I thought I might share them with you.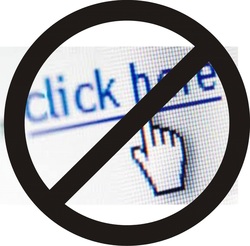 Thing one is that Google looks at hyperlinks pretty closely when their agents come to evaluate your website and what they find can have a major affect on your website's "ranking." That is, when someone uses Google to find what they're looking for, your website's position in the search results is based on several factors, one of which are hyperlinks. (Remember, listings near the top of the search results are more likely to be clicked than those that are further down, like position 107,342,938.) It seems that links that are anchored on other websites and connect to yours are worth a lot more in Google's ranking system than hyperlinks in your website that link back to your website.

Based on this information I thought that I must be a very generous guy. I have lots of hyperlinks anchored in my website connecting to others. In fact, I have a whole section named "Blogs to Follow..." that's full of hyperlinks to other websites. Unfortunately, my website isn't very important and my hyperlinks don't count as much as those on the important websites like Huffington Post (yeah, I was also surprised to learn that they're that important). Still, my hyperlinks must count for something and it would be nice to get at least a "thank you" from those other websites I have been linking to. Better yet, it would be nice if they linked back to me.

However, thing two that I learned on this webinar really shocked me. Google not only records the hyperlinks themselves, but also the anchors (text or images) to which they are attached. That's why, if you Google "click me" you'll find some interesting results. For example, Adobe, one of the first to use the "Click Me" anchor is most often at the top of the search results. Now, if you think about that, you can see that using "click me" as an anchor isn't doing you any good at all. That's why I spent the rest of the week replacing all "click me" anchors with text and images that better related to my website and the audience I'm trying to reach. I think I still have a few hundred references to replace.

I hope that I'm not the only one who was ignorant of all this good information, and that you have cultivated lots of friends who have linked their websites to yours. Better yet, I hope that you'll find it in your hearts to link back to mine. Call it payback for sharing all this good information with you.