Opinion
I BECAME POLITICALLY aware at a very young age. You may find it hard to believe, but I have conscious memories of the Eisenhower/Stevenson run for the presidency in 1952 when I was just nine years old.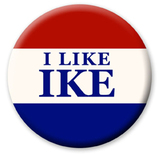 ---
Why did Stevenson shoot his dog?

He stepped on its tail and it ran down the street howling, "Ike, Ike, Ike."

---
Those were more civil times.

Something happened since then. The lines between Republican and Democrat faded, and ideology replaced politics. Although members of the two major parties may have disagreed over the means and methods to achieve national objectives, they seemed to agree on the objectives. Security. Liberty. Equality? Not so much. At first blush, it may seem ironic that the party who filibustered in opposition to the Civil Rights Act of 1966, has since championed special entitlements purportedly to offset past injustices that arose from racial discrimination. However, politicians have played musical chairs with issues so often that its hard to distinguish which party accomplished what.

Historically, the American population has always seemed to divide itself into thirds. For example, only a third of the Americans supported the rebellion against British sovereignty over the colonies. Another third were Tories. Support for the "rebellion" to secede from the Union also amounted to a third or less of the population, and a third supported the fight to preserve it.

What of the other third? In both cases, the remaining third of the American population was more concerned with avoiding the fight and focusing on more mundane issues such as "The Pursuit of Happiness." Things are pretty much the same today. Neither of the two major political parties can claim the support of more than a third of the registered voters. Probably far less than one third participate in Tea Party gatherings or Occupy Movements. The remaining third appear content to sit on the sidelines and watch "you and him duke it out."

I suppose this is why I remain content to sit on the sidelines with them and have declined to state a political affiliation. I don't care to get involved. That's not to say that I don't have an opinion. It just seems that neither the Republicans nor the Democrats are interested in hearing it. I know. I've spoken out and written to elected officials of both parties to no effect. They simply place my letter in a pile of those who "agree" with them and respond with a plea for money or they place it in the "other" pile and respond with a letter of hope that we can still be friends and find other areas on which we agree. Both letters, of course, are pumped out of the same word processor.

Believe it or not, there was a time when no member of Congress would allow the sun to set on an unanswered letter with a response that they personally dictated. Imagine that!

Certainly, progressives don't want to hear my opinion. Whereas conservatives seem content to let me blather on and pretend to listen respectfully, progressives become annoyed. They tell me to shut up and if I don't, they avoid me.

Also, not joining either major political party does not make me part of the center. Sitting on the fence just makes you a good target. In fact, "governing from the center" is a joke. Imagine two sides arguing over whether or not to build a bridge. One is for it and the other is against it. What is the centrist position? Build the bridge just half way?

There also used to be a time when I could discuss politics rationally with friends, family, and neighbors. Disagreements could be passionate but never heated. I'm sure that those times resembled the eras long before the Revolution and the Civil War. However, the rancor that I'm hearing these days is beginning to sound more like the enmity that I have found in diaries and editorials that were published in the days just prior to those conflicts.

However, as I stated before, it's not about politics any more. There's a fight going on over ideology. One side won't be happy with America until they "change" it, and the other wants to return it to "what it was supposed to be." Now, I know that some will jump in here and think that I am casting aspersions at President Obama because I mentioned "change." The truth is that I can't see where he has "changed" all that much. Things seem to be pretty much business as usual in Washington since he took up the mantel of President. Indeed, progressive leaders are among those complaining most bitterly that he simply hasn't acted "progressive."

Roberto Unger, a progressive firebrand and President Obama's former advisor at Harvard Law School, now advises "Don't Vote For Obama."
---
Does Professor Unger look like a man who is prepared to debate. His body language and stern demeanor tells us that he is a man with a message that we must believe. Seriously, doesn't he resemble a TV evangelist preaching hellfire and damnation? Why? Professor Unger is an intellectual. He has spent a lifetime studying the law and becoming expert in a small segment of it. However, he is confident in his wisdom in matters far beyond his narrow sphere of expertise.

Most people don't debate anymore. Most people don't even want to listen to one. Indeed, the attempts at Presidential debates that we've seen in recent decades resemble a debate about as much as television news reporters resemble real journalists. It's sad. I long for a good debate. Unfortunately, people are quick to attack those who so much as hint at disagreeing with them. Did you notice how quick I was to defend myself from personal attack in that last paragraph? Rather than offer proofs of their own positions, they dismiss their opposition with personal attacks.

Anyone care to debate?