Good Read
WINSTON CHURCHILL FAMOUSLY said that "The best argument against democracy is a five-minute conversation with the average voter." I'm not sure if he was being facetious, but I have to wonder what he might have said had he survived long enough to experience discussion threads on the Internet.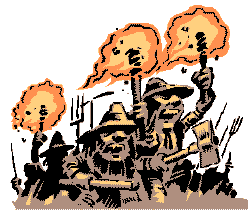 After reading the reviews of this book and the responses, I feel like I have something to add, even though I have not read the book.

Thank you for calling the author on the carpet regarding his White bashing. That is getting old. I suspected that would be present in this book when I hefted it at Barnes and Noble and saw the author's name - "Diamond."

Yes, and it's almost humorous how many people are oblivious to that, Deckard. Like sheep.

Wow, a German spouting anti-semetism [sic]. The cliches are endless around here.

German, anti-Semite, anti-whatever...the point is that this book is CLEARLY written with an anti-white bias and is far from taking into account ALL factors which contribute to one civilization dominating over another. And I AM Jewish, 100%, for your information.

As you must have guessed by now, this discussion thread pertains to the review of a book on Amazon. It is but a small portion that includes 1,283 reviews and countless comments. Doesn't it just make you want more? The book or the discussion thread? I don't know, take your pick. They're both fascinating. Obviously,
Guns, Germs, and Steel: The Fates of Human Societies
by Jared Diamond, the subject of this diatribe had inspired the passions, not only of the people who read the book, but also the people who read the reviews.
Did you know that there was this much drama going on in nonfiction? That's right! Dr. Jared Diamond, PhD, the author, is a respected professor of geography at the University of California, Los Angeles, as well as a member of the National Academy of Sciences, the American Academy of Arts and Sciences, and the American Philosophical Society. His academic achievements include awards of the National Medal of Science, the Tyler Prize for Environmental Achievement, Japan's Cosmos Prize, a MacArthur Foundation Fellowship, and the Lewis Thomas Prize honoring the Scientist as Poet, presented by Rockefeller University.
Guns, Germs, and Steel
earned his a Pulitzer Prize. And yet, countless people are willing to rake him over the coals publicly for what? Expounding on the effects of geography, environment, and demographics on the rise and fall of civilizations.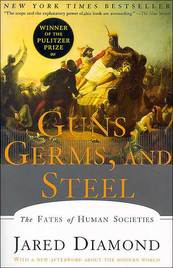 I can see your eyes rolling up until nothing but white appears and you're feeling faint. Don't leave me here. He made this really interesting and readable. He begins with Yali's question, a question that you might have asked yourself if you lived in a place and time that wasn't blessed with the treasures of civilization. Yali lived on New Guinea where all manufactured goods arrived on cargo ships. His people had neither the resources nor the expertise to make anything for themselves. Thus, they referred to all such goods as "cargo." Yali wondered why do some people have "cargo" and others, like his people, do not.

If Yali's question doesn't get you wondering, you may as well stop reading here. It's not going to get any better, unless you wonder why people with no appreciable knowledge of history, science, or mathematics would even attempt to criticize an academic tome. That's my question.

The truth that Dr. Diamond discovered that the uneven distribution throughout the world of plants and animals capable of being domesticated, as well as the uneven distribution of raw resources such as coal and iron ore, had a significant impact on the uneven success of civilizations around the world.

Despite some observations interspersed throughout the aforementioned discussion thread, Dr. Diamond also allows that other factors such as culture and politics had significant effects. However, no one study can include them all.
Now, some people will read this far and still not be inspired to read
Guns, Germs, and Steel.
However, if your curiosity has been piqued, I cannot recommend a better beginning for your adventure in learning than this book.
The rest of you can go back to ranting on discussion threads. This is a major election year and there will be plenty of opportunities for you to rant, and ranting doesn't require knowledge, just an opinion.
Read Jack's novel, Rebels on the Mountain, the tale of Nick Andrews, an Army spy, who has Fidel Castro in his sights but no orders to pull the trigger. The mafia as well as the American business community in Cuba will pay a fortune for Castro's assassination, but Nick has his career to consider, his friends to protect, and a romance to sort out in the chaos of a revolution.