Sea Scouts
THE UNITED STATES COAST GUARD is a law enforcement branch of the Treasury Department. In time of war command and control is transferred to the United States Navy. In some quarters, they're affectionately known as the Hooligans Navy. I believe that the appellation applied because, although a quasi military organization, Coasties didn't adhere to strict regimens of military discipline. They were somewhat nonchalant in their uniform and didn't enforce strict military-like protocols. They had too many nonmilitary (police) concerns.

I don't think that the members of the Baltimore Yacht Club who considered the Sea Scouts to be hooligans intended it affectionately. They sincerely felt that we were some sort of street rabble intruding on their privileged sanctuary. To be fair, for those of you who are joining this conversation late, this group was a very small minority of club membership.

True yachtsmen tend to have a connection to any youth who demonstrate an interest in boating. There were many occasions when strangers at Dana Point would step up to help the boys I had recruited from the juvenile detention facility. If they were struggling with sailing or rowing a small boat, nearby sailors would happily provide them with help even though the boys wore gang tattoos and most were of noncaucasian origins. Yes, there were other boaters at Dana Point, just as there were at the Baltimore Yacht Club, who looked down on us, but I never counted them as true yachtsmen.

I suppose we came to embrace our status as hooligans in their eyes, just as the Coasties embraced theirs. And, like the Coasties, we proved our worth countless times saving sailors in distress, even those who looked down on us.

Interestingly, as my first summer with the Sea Scouts drew to a close, we had an opportunity to work on a rescue alongside the Coasties. We were shepherding a group of sailboats around a race course when we were suddenly overtaken by a squall. These storms can be terrifying. They strike suddenly and with just minutes of warning. Generally, they arrive within less than an hour after the tops of the clouds first appear above the horizon. Half of that time is needed for enough of the cloud to rise far enough to discern their telltale anvil shape. When the storm is less than fifteen minutes away, the bottom of the cloud appears above the horizon and you can see sheets of rain falling. In the most violent ones, you will see a rolling mass of clouds at the leading edge, along the base, appearing like the massive front wheel of a steamroller.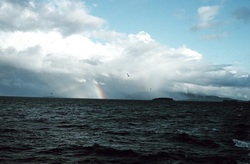 On this occasion, racers from the Baltimore Yacht Club were spread out over a square mile in front of us. We rushed forward when we saw the first ones being knocked over or losing their masts. We had seen a Coast Guard Cutter nearby during the day and requested their assistance by radio. As the youngest member of the crew and inexperienced, I was left to handle lines and assist sailors after they were brought aboard. It was mid-September and the water was cold, and the little clothing they had was soaked. The older members of our crew were jumping into the water to help the racers right their boats and tie them behind ours, and then help them aboard. Nearby, the Coasties could be seen doing the same. Within a half hour we had gathered everyone from the water and had all their boats in tow.

Side-by-side with the Coast Guard Cutter, we delivered everyone safe and sound to the Baltimore Yacht Club.

One of our greatest detractors at the yacht club, who shall remain nameless though many years have passed, inherited his yacht and his membership from his father. I believe that he also inherited his father's money and business. I could fill pages with the many instances when we had to save him from his own folly. However, there was one occasion when I failed him and the memory of it still rankles now almost fifty years later.

We were on a cruise to Norfolk, Virginia. Our starboard transmission sprang a leak in its cooling system as soon as we departed the club and we had to turn back to make repairs while the fleet continued on to St. Michaels, Maryland, the first overnight stop. I worked all night with my father's assistance to fabricate a replacement part and reinstall the transmission. We left the next morning as the yacht club fleet departed St. Michaels, about fifty miles ahead of us, headed for Solomon's Island, at the confluence of the Patuxent River and the Chesapeake Bay.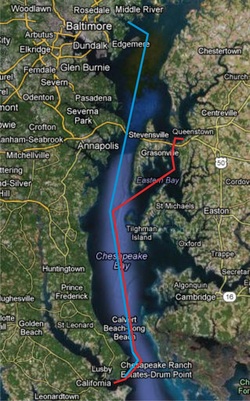 We ran into severe seas just after catching them and my crew became seasick. Just one boy and myself were left to operate the boat. Shortly thereafter, the man who shall remain nameless lost his engine and we turned to take him into tow.

I maneuvered our boat while my lone crewman accepted the towline from the disabled vessel. I then turned the helm over to him and secured the towline to a bridle that I fashioned to spread the load between two samson posts in our stern cockpit. His was one of the few yachts in the fleet that was heavier than our crashboat and I was concerned with the strain that towing him would place on us, especially in the heavy seas.

We kept him under tow for about two hours as we continued on to Solomon's Island. It was the nearest port, but unfortunately required that we tow him into the teeth of the oncoming waves. As I had feared, the tow was placing enough strain on the samson posts that they began to complain with creaks and pops that I never expected to hear from them. My only option was to rig a bridle completely around our boat to spread the load from stem to stern. Unfortunately, I would have to accomplish this feat without help inasmuch as all my crew save one were disabled.

I called the vessel we had in tow to explain the problem and coordinate the maneuver. Unfortunately, his wife was on the radio with a friend in the fleet ahead arranging a cocktail party, and refused to get off the air. Finally, exasperated, I cut the tow. I secured a spare anchor to my end of it and tossed it overboard so he wouldn't drift onto the lee shore. I then called the Coast Guard with his position and proceeded to Solomon's Island alone.

As I said, it is the only rescue that our ship ever failed and I was the man in charge of it – well, an eighteen year old Coast Guard licensed skipper, not much of a man yet.

So, yes, we were hooligans. We weren't a spit and polish Boy Scout group. We gambled, chased girls, and even broke the law at times – minor laws to be sure. I have even admitted to having a shot of moonshine during a cruise. But, we were useful hooligans and I never felt the need to ask any man's forgiveness except that one occasion. I don't know why it still bothers more than fifty years later.