History
Everyone is a hero to someone.

No one is a hero to everyone.

How many in this gallery of heroes are yours?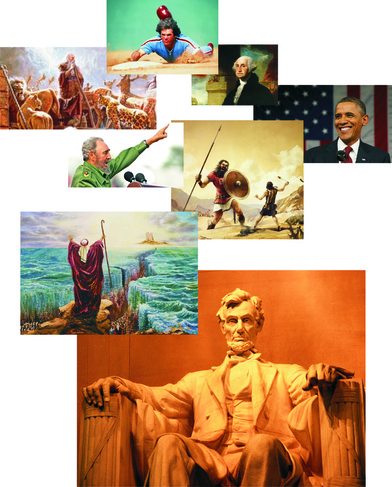 Yes, Fidel Castro is there. He was a hero in my first novel, however, I couldn't write "The End" until another hero returned in the last chapter to see what he had become. The man who launched the revolution in Cuba bears little resemblance to the one who governed it as a communist dictator. He wasn't even a communist until the revolution ended.

Castro isn't alone. All heroes fail eventually, even my favorites. How about yours?

All the great heroes of the Bible failed. Noah became a falling-down drunk. Moses was forbidden from entering the promised land because he angered God after serving him so well. David succumbed to his carnal desires. No, don't mention Jesus, especially if you believe he is God. It's impossible to be a hero if you're God and have nothing to fear.
How about sports heroes? They are legion. Among the greatest is Pete Rose, a man's man among athletes. Team mates and opponents alike revered him until he violated the cardinal rule of competitive sports. He wagered on the game he played and was banished for life. You won't find any other sports heroes who fared much better.
Is President Obama one of your heroes? He isn't mine. I hoped he would become one. Too bad that he didn't learn from the failures of other Presidents. Would President Obama have attempted to meddle in private business and created failures such as Solyndra had he studied the experience of his predecessors, George Washington and Abraham Lincoln?
Both earlier Presidents allowed their good intentions to get in the way of their good judgment. Washington authorized the establishment of fur trading posts on the American frontier to compete with the French whom he feared were riling up the Indians. He was the first American President, and the first to discover that bureaucrats are incapable of operating a successful business. Lincoln promoted the doomed Transcontinental Railroad. Bureaucrats chose the wrong route, the wrong business model, and insured failure. Yes, the railway was completed, but soon abandoned as private entrepreneurs avoided the government's mistakes and built a better one that was the foundation of a financial empire that helped build a nation.
Obama didn't have to look back that far in history to learn to beware of good intentions.
Castro was very fresh in our minds.
Like Washington and Lincoln, Castro started out with the best of intentions. He was going to free his people from the commercial shackles imposed on them by the American land and business owners in Havana, and redistribute the island in one of history's great land reform programs.
Castro succeeded in his first goal. He drove away the American's puppet governor, Fulgencia Batista.
He succeeded in redistributing the land, well most of it, to the people.
Sadly, he failed to lead them to become an economically and politically viable and stable nation.
Castro became a tyrant.
If only Obama had studied Castro and Cuba as I did in preparing to write
Rebels on the Mountain.
At the very least, he should have taken a brief trip to Miami. There he would have found many of Castro's revolutionaries, known as
Fidelistas
, who had to flee Cuba after he won his revolution. They fled when Castro turned loose on them a murdering psychopath, Che Guevara.
Fortunately, none of Obama's minions are murdering psychopaths. No Americans are swimming the Gulf of Mexico to escape Eric Holder. However, given a third term, maybe...