CUBA SITS ASTRIDE the shipping lanes to and from the Panama Canal. Hostile forces, or pirates, based at Guantanamo Bay could easily disrupt these strategic routes. Although the canal was not completed until 1914, twelve years following Cuban independence, the United States Navy wanted a coaling station and a base there to insure that they could properly defend the region.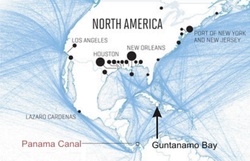 Warships based at Guantanamo can either protect or harass Panama Canal shipping routes (click to enlarge)
Coal fueled ships in the early Twentieth Century, even warships. Bunkers had to be replenished much more frequently than oil-fueled ships that dominated the American Navy during World War II and beyond. (Nuclear fueled engines are used only on submarines and aircraft carriers, even today.) Thus, coaling stations were needed at key locations, especially strategic ones like the Caribbean sea lanes to the Panama Canal. Guantanamo was perfectly situated to support this purpose.

Guantanamo Bay also is well protected against the ravages of tropical storms. The smaller classes of warships and patrol boats needed to guard littoral waters, close to shore in and around Cuba, can snuggle easily within its confines. These vessels converted to oil-fired boilers, but the station at Guantanamo was still needed by larger, capital warships that continued burning coal well into the Twentieth Century.

Today's littoral warships are busy protecting the approaches to the Suez Canal where Sudanese pirates are active these days.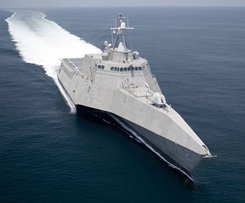 Modern littoral warships protect sea routes to the Suez Canal as they once protected those to the Panama Canal (click to enlarge)
The United States continues to occupy Guantanamo over the objections of Fidel Castro. He has argued that the lease resulted from a treaty that was imposed on the Cubans under coercion, and that such treaties are null and void under Article 52 of the Vienna Treaty on the Law of Treaties, negotiated in 1969. However, his claim fails on two counts. First, there was no coercion. The United States made no threats to gain Cuba's agreement. Secondly, the Vienna Treaty explicitly precludes its application retroactively.

Thus, the United States makes its lease payment to Cuba every year by check and Castro refuses to cash them.