Vietnam
All bloggers love getting comments on their postings. I'm no exception. It proves that we're not just whistling in the dark.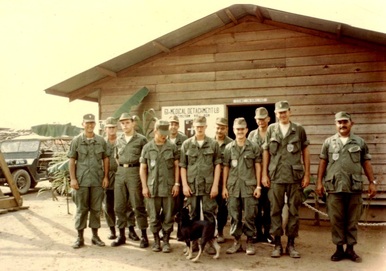 61st Medical Detachment, 9th Infantry Division Headquarters, Dong Tam, Vietnam (1967) Click to enlarge
Some of my favorites come from others who served in Vietnam and share their experiences. Recently I received one from a Vietnam Vet who responded to my posting about
French Fort.
It seems that the French built many forts in Vietnam that Americans universally named "French Fort". Thus, my attempts to research the one in my experience returned information about all but that one. However, my complaint about the confusion elicited a response from David Hagen who was there and had photos to prove it. (David is the tall skinny lieutenant, front row, second from the right)
David's contribution then created a new problem: Too much information.
What shall I now write about?
Actually, I think I've already mentioned the important bits. As General Patton famously observed, the French built many such "monuments to the stupidity of man", none of which succeeded in defending their homeland nor their colonial possessions. (Isn't there an important lesson in that?)

What David's correspondence reminded me of is the fact that there is a lot more to war than simply killing people and breaking things. Some soldiers, like David, were employed in preventing disease. He was a member of a Preventative Medicine Team from the 61st Medical Detachment attached to the 9th Infantry Division at Dong Tam. Their mission was, in David's words ...

I was a Medical Entomologist and CO of the 61st, which was attached to the 9th Infantry Division at Dong Tam. I and my team provided a wide variety of preventive measures throughout IV Corps including survey and control of insect and rodent vectors (e.g. bats!), operation of a helicopter aerial spray system for control of malaria, water quality surveillance, training of Unit Field Sanitation Teams, and conducting sanitary inspections. We traveled throughout the Delta supporting U.S. Army units as well as Vietnamese health officials in plague control, immunization programs and investigation of disease outbreaks. It was challenging, rewarding work, and I will always be grateful to the U.S. Army for giving me the opportunity to do it.
It was an important mission inasmuch as sickness depletes the warrior's well of fortitude as surely as fear, exhaustion and malnutrition. Helping the Vietnamese was likewise important. Contributions such as these helped alleviate the suffering of a people caught up in the invasion of their homeland.

I'll simply let David's describe the photos in his own words.
1 – 2 Aerial view of French Fort as we approach by helicopter, 1967.

3 Close-up of gun emplacement, French Fort, 1967.

4 - 5 Detail of French Fort, 1967.

6 Turret of French Fort where bats are roosting [This mounted two large caliber naval guns that were rusting in the weeds alongside the fort when I was there - JD]

7 SSGT Sanchez and Preventive Medicine Technician prepare insecticide to apply inside the turret

8 SSGT Sanchez prepares to enter the turret

9 Results of smoke grenade as we try to flush bats from the turret.

10 M109 155 self-propelled Howitzer artillery unit at the French Fort, who requested help with the bats.
Thanks David for the photos and the comments as well as your service.

Don't worry, David.. I won't hold it against you that I contracted malaria during my tour of duty.

Welcome home.