America
Once upon a time men prided themselves on their self reliance. It was part of a cowboy mystique that every man embraced. Maintaining one's own car was an important expression of this ideal.

One of my favorite stories of do-it-yourself prowess comes from a time when my friends and I got together to swap out a flathead V8 from a 1949 Ford and replace it with a similar engine that we purchased from a junkyard. Step one in the process was to drain all of the fluids – oil and coolant – before disconnecting the engine. An question occurred to us when this chore was completed: How long could a Ford flathead V8 run without any oil and water? The answer lay in a simple experiment. We fired it up, laid a brick on the accelerator pedal, and stood back to enjoy the show.

That engine commenced to scream in anguish. We could imagine the block glowing a hellish red but had the good sense to stand back. Soon, the air became clouded with the incense of burning babbitt. (That's the medal used to coat plain bearings such as are found where connecting rods meet crankshafts.)

The show continued until we became bored with it and sent the member of our company with the least sense to switch the engine off. As we sat drinking our beer, waiting for the engine to cool down sufficiently for us to resume work, we discussed the result of our experiment. We were universally surprised that the engine ran as long as it did without blowing up. Another experiment was then proposed which required restarting the engine. It wouldn't. It was frozen solid. Once stopped, the connecting rods gripped the crankshaft with the automotive equivalent of rigor mortis.

I am reminded of this episode as I watch the debate unfold about Obamacare. Few remain who believe that it was a good idea. However, those who call for its repeal may find that the system we left behind is already beyond repair. Maybe the debate should now focus on replacing Obamacare with a better idea much as we replaced that old engine. Hopefully, this time around we'll keep our eye on the ball and craft a system that will focus on the immediate problems without wandering far afield trying to fix everything all at once.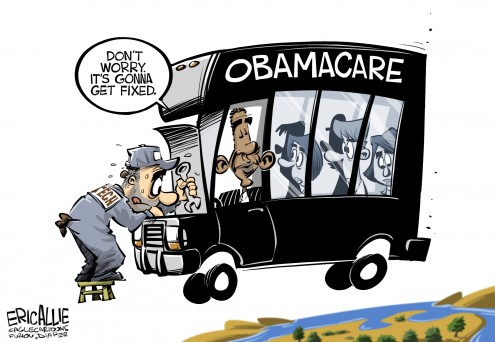 No, I'm not just talking about the website. As a former Internet network and applications architect, I say can with authority that it is beyond repair. It will never be secure unless security is built into a completely new system.