Vietnam
NO ONE CAN anticipate every situation nor carry into the combat theater everything they might possibly need. Thus, soldiers have a long history of improvising the things they need from anything they find at hand. Everything from shelters to fortifications can be constructed from naturally occurring materials or debris on the battlefield. Machines to move cumbersome objects can be fashioned from trees and ropes so long as the soldier has a basic understanding of levers, inclined planes, and mechanical advantage. Men and material can be moved past man-made and natural barriers using primitive bridge-building techniques or fashioning a boat from leaves and a poncho.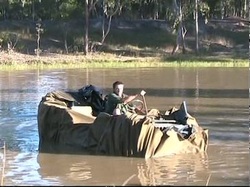 One of the more interesting field expedients that we learned in Officer Candidate School (OCS) helped us keep a jeep on the road even though all but two of its tires had worn out or been shot away. We learned to move the remaining tires to the front axle and lash poles to both ends of the rear axle. With power to the front wheels, the vehicle would drag its rear end like a travois. I have also seen demonstrations of floating a jeep across a river by wrapping it in a tent.

Everywhere I traveled in Vietnam, I saw numerous examples of field expedients. The Signal Corps was especially adept at fabricating radio antennae in any environment, from mountains, to jungle, to the flat regions of the Mekong Delta. Unable to achieve the range they needed using the antenna tower they had been issued, our division signal battalion deployed a blimp, similar to the barrage balloons seen over London during World War II, to raise our radio antennae high enough to reach our far-flung combat and support units.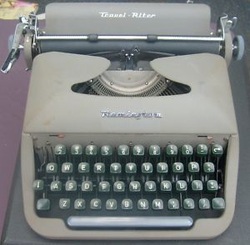 REMF found need of field expedients as well. For example, our offices were equipped with Remington desk top typewriters that were ill-designed to cope with the humid environment in Vietnam. There was no attempt to modify them. The ones we used were identical to the typewriters found in any office; they were not even painted Army OD (olive drab). Delicate parts quickly rusted away. The division's maintenance battalion was supposed to support our repair needs, but they were frequently too busy taking care of the combat troops to attend to us. Thus, we learned how to keep them working ourselves.

One of the more delicate parts in the Remington typewriter was a chain used to transfer energy from the operator to the spool that moved the inked ribbon from one spool to the other. Each time a key was pressed, it used a watch-like system of gears to convert the up-and-down motion into a rotating motion, that turned another system of gears and pulleys to turn the ribbon take-up spool. The chain that transferred the movement from the bottom to the type of the mechanism rusted and frequently broke despite our attempts to keep them clean and oiled. Taking one apart we discovered that this chain resembled our dog tag chain and we were able to restore our typewriters to use by adapting one for this purpose.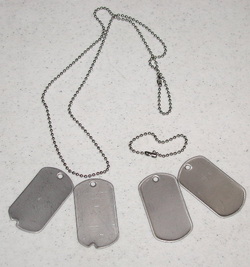 On one occasion, a typewriter had completely frozen due to rust despite our best efforts at cleaning and oiling it with gun oil every day. In a futile attempt at repair, I disassembled it completely. As I held the basket – a frame holding the keys – I pulled the pin and all the keys dropped into my lap. When the man from the maintenance depot arrived, we handed him a box containing the stricken typewriter – no two parts assembled. I don't think that they appreciated my efforts to help.