Cuba
FEW OF THE FIDELISTAS who sailed on the yacht Granma and came to be known as los expedicionarios del Yate Granma, survived their arrival in Cuba. It is ironic that they survived the trip on an ill-suited vessel, to die in an ambush set by the Cuban army and air force.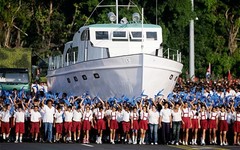 A replica of the Granma mounted on a truck chasis appears regularly at patriotic celebrations (click to enlarge)
The pilot, Norberto Collado Abreu, a World War II veteran of the Cuban Navy, hadn't allowed for the loss of speed carrying so many men as well as their weapons, ammunition, and supplies, and the voyage lasted two days longer than he had calculated. The worn out engines and transmissions didn't help either. Fortunately, he had brought extra fuel in jerry cans lashed on deck. Even so, they arrived with little remaining in reserve.

I never found a log of the voyage. Most of the Fidelistas died on arrival in Cuba and never had a chance to leave a record of their experiences. Thus, I had to surmise what it must have been like on board the Granma based on many years of experience cruising on similar types of craft. I attempted to depict the conditions on board in my novel, Rebels on the Mountain, as accurately as possible. For example, I imagined the difficulties of 82 men, many seasick, using just two marine toilets. These devices are notoriously cranky and frequently breakdown, especially when they are operated by novices. Also, I suspect that the supplies of food and water were barely adequate for a five day voyage. The extra two days that they spent at sea must have been grueling on short rations.

Che Guevara, the rebels' doctor in the early days of the revolution, must have been in charge of rationing supplies during the voyage. It is clear from extant records that Che was a cold and unforgiving man, and his bedside manner was probably more like Doc Martin in the popular BBC series of that name, than Marcus Welby. (For those who aren't familiar with my references, Che probably treated his compañeros curtly. I suspect that many, misled by popular fictional treatment of Che as a glorious hero, will be surprised by my characterization of the man. However, I will offer more substantial proof in another posting wherein I will discuss Che in greater detail.)

One event was handed down to us from that voyage. It involved a Fidelista who had been sent to unlash and toss the spare fuel cans overboard as the Granma approached its destination. Although not mentioned by the survivors, it is reasonable to assume that they didn't dispose of the cans one-at-a-time so that they wouldn't leave a trail of them across the Caribbean that would lead any pursuers to their location. The pilots of Jimmy Doolittle's squadron employed the same tactic for this reason during their raid on Tokyo. The man fell overboard as he was working and Fidel ordered searchlights turned on to help find him even though the illumination might lead enemies to the rebel vessel. The Granma circled in the night and Fidel refused to give up. He announced that he would "leave no man behind". Was this story apocryphal, designed to make Fidel appear more heroic? Possibly. However, I never found anything to suggest that Castro was anything but driven and physically courageous, though of questionable judgment at times. Who isn't?

Fidel had planned on landing at Playa Las Coloradas near the municipality of Niquero, near the spot where the Cuban hero, José Martí, had landed at the beginning of another revolution 61 years earlier. Unfortunately, the pilot didn't have an accurate means of gauging their speed and overshot their target by about fifteen miles. He discovered his error in the early morning light. Fidel ordered him to head for Niquero, but quickly changed his mind and chose to head for the nearest land when a Cuban air force warplane spotted them.