Cuba
AMERICAN CAPITALISTS LEARNED to deal with the graft and corruption of the Spanish administrators in Cuba. They were tired of every successive U.S. Administration failing to either help Cubans win their independence or annex the island. It was time to get down to business. The natural resources and climate of the island promised prosperity. Its proximity to America, as well as its natural harbors, facilitated communication and transportation. With the end of slavery, the only thing standing in the way were the hands of Spanish administrators itching for cash.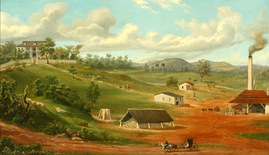 Sugar plantations in Cuba were autonomous businesses, each milling its own sugar cane. (Click to enlarge)
Spanish peninsulares, tired of the death and destruction of the Ten Years War, decided to sell out before the Cubans threw them out. Americans moved in with fistfuls of cash and bought up millions of hectacres of lush plantations at a fraction of their value. They bought out prime business properties in every major city. Cubans traded their Spanish masters for American jefes (chiefs). Edward Atkins of Boston became the new sugar baron of Cuba.

In the beginning, American businesses in Cuba flourished. In 1892 alone, almost $78 million in products were shipped from the island to markets in America, more than all other nations in Latin America combined. However, exports of products from the American heartland failed to reach even $18 million. The Spanish imposed heavy tariffs on American goods that the Cubans could not afford to pay. The government also imposed a heavy tax on all foreign owned businesses, and cables began to flood across the Atlantic from Washington to Madrid complaining about unfair treatment. Business owners from European nations suffered equally, but the Americans had acquired the lion's share of assets in Cuba.

Revenue of American-owned businesses dropped every year thereafter until 1898, when Cuban exports amounted to little more than $15 million. Imports were less than $10 million. Spanish interference was taking its toll. Like modern politicians, island officials didn't understand that increased taxation stifles commerce, and a large percentage of a small pie is less satisfying than a small percentage of a large pie.

The Spanish government exacerbated the problem by referring all disputes to courts in Madrid, thereby delaying resolution of commercial disputes. America responded by insisting on most-favored nation trading status. It was, after all, importing 75% of all Cuban exports of sugar, 50% of all tobacco, and 50% of its manufactured products.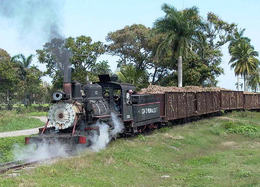 The only railroads in the Caribbean were built in Cuba by American plantation owners to carry sugar cane to the mills. (Click to enlarge)
American businessmen seemed to know something that no one else knew. Despite the lack of any resolution to these problems, they continued to invest in the island. They sent engineers and contractors to the island to improve its agricultural and industrial efficiency. They built modern sugar mills to replace less efficient smaller mills that processed the sugar cane on each plantation, as well as railroads to move the product quickly and economically to the ports. American capital financed these hacendados, or central mills. Small farmers took the risks and had nowhere else to sell their product except to the hacendado manager. Social-economic problems arose from this system that would continue until Castro's revolution and the land reform that followed. Castro didn't resolve these problems so much as replace them with new ones.