Opinion
Seriously. I read a review of Abraham Lincoln: Vampire Hunter, the movie and the book, and the author wrote, "I would give Seth Grahame-Smith's Abraham Lincoln: Vampire Hunter 5 stars just for freshness alone. I mean, Abe Lincoln killing vampires? Yeah, that could have gotten real corny, real quick. It didn't."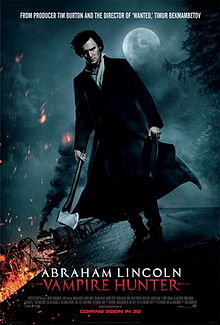 To be fair, I believe de gustibus non est disputandum [Latin: To each their own]. However, the next paragraph of the review gave me the creeps.

"There has always been something creepy about Abe Lincoln. His life was marred by tragedy, his wife was obsessed with the occult, and he was freakishly tall and gangly [sic]. This book centers his creepiness in a way that any history buff can appreciate; Grahame-Smith 'vamps' up the real life events of Lincoln's life in a big way. Not only does he 'revamp' Lincoln's personal history, he rethinks America's! After reading this, you'll forever perceive slavery in a different light. A darker light."

This struck me wrong on several levels and I'm probably going to upset more than a few readers as I explain. So, hang on. It's going to be a bumpy ride.

Abraham Lincoln is only creepy to a child who hasn't been taught history properly. Yes, his life was marred by tragedies, not the least of which was his wife's odd behavior. She also came close to bankrupting the family with her extravagant purchases in New York, ostensibly compensating for those other tragedies that she and her husband shared. Lincoln, on the other hand, somehow found the inner strength to console others with his compassion and humor. I suppose that could sound creepy to someone who might be narcissistic.

Lincoln also had an uncanny ability to inspire the best in others. A young man whom Lincoln saved from the gallows for sleeping on guard duty following the Union rout at the First Battle at Manassas (Bull Run), went on to sacrifice his life heroically while saving others at a later battle. With his dying breath he begged for his comrades to inform Lincoln that he repaid his debt. I suppose that would sound creepy to someone who didn't understand the true meaning of valor and self-sacrifice to a higher cause.

Abraham Lincoln might also sound creepy to someone who hasn't been taught to revere their country. After all, it was Lincoln alone who championed the cause of keeping the nation whole. His cabinet was unanimous in their opinion that the South should be allowed to secede. Of course, had they had their way, there would have been no "arsenal of democracy" to help free nations defeat fascism and communism in the Twentieth Century. There would be no free world to lead the fight against terrorism and religious fanaticism in the Twenty-First Century. I suppose that sounds creepy to an intellectual who believes that there is nothing special or exceptional about the United States.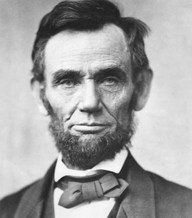 Ultimately, I am left to wonder why anyone, any woman would want to "revamp" Lincoln. The only plausible explanation I can come up with is that the author of this review is like one of the girls I knew in high school who liked the bad boys. My wife complains bitterly when I mention this. She wasn't one of them. But there were many girls who liked the boy who appeared dangerous. Anthropologists have hypothesized that females are attracted to dangerous males based on primitive desires to feel safe protected by such a man. That seems like a reasonable explanation for the behavior of primitive peoples. By extension, this may explain the current fascination with vampires who are, after all, the ultimate bad boys. However, there are more, like my wife, who understand that primitive behaviors don't necessary succeed in a modern world.

In an episode of Modern Family, ABC's popular sitcom, Alex Dunphy, the smart daughter, entices a group of geeks to do her a favor by flaunting her femininity. Haley Dunphy, the sexy sister who is attracted to stereotypically virile though dumb men, is taken aback that Alex can manipulate boys. Alex explains, "One day, your boyfriends will be working for my boyfriends." Yes, it may be creepy to consider that brains will win over brawn, even vampire brawn.

Which brings me to the creepiest part of the review that set off this rant.

"In some places, this book is scarily convincing. Seriously, that gut feeling that Honest Abe was up to no good in his downtime will only intensify once you finish reading. It may not have been vampires, but *something* just might have been going down in the White House."

"Scarily convincing?" Are you kidding? News Flash: Vampires are not real!

"...something just might have been going down in the White House?" Well yes, as a matter of fact. Starlets were going down under John Kennedy. Interns were going down under Bill Clinton. The economy is going down under Barack Obama.

But, for the love of all that is decent, let us revere the memory of one of the few good men to occupy the White House. If your teachers failed to teach you that lesson, I can recommend a few good books.

Oh, and as must be obvious to anyone who follows this blog, I am a history buff and no, I don't appreciate anyone's attempt to "revamp" Lincoln, nor do I need the metaphor of vampires to understand that slavery was and is an evil practice.