Sea Scouts
BOY SCOUTS LEARNED a little about a lot of different things. Sea Scouts learned a lot about piloting, seamanship, and small boat handling. As a result, they were valued over the years when they grew up and joined seafaring organizations such as the Navy, the Coast Guard, and the Merchant Marine. Most were appointed leaders as soon as they arrived at boot camp.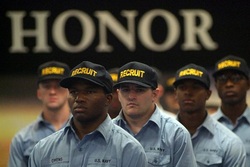 I wish I could have used this history to show the boys who I recruited from Juvenile Detention that the skills I was teaching them could offer an escape from the gang life in which they were trapped. Unfortunately, as the years passed, Sea Scouting lost its cache with the naval services.

From its inception in 1912 until the end of World War II, Sea Scouts who joined the Navy, Coast Guard, or Merchant Marine and made a career of it, rose through the ranks. Many earned high honors and some even became admirals. Thus, when I was a Sea Scout in the 1950s we never wanted for support. If we needed a vessel, one could always be found lying around some Navy yard unused and signed over to us. If we needed help servicing the engines, a Navy chief would show up. Inasmuch as most of our equipment predated World War II, the type of engines that many of the older engineers had cut their teeth on as new recruits, it was like a bit of nostalgia for them to come and help us, and we learned a lot working with them.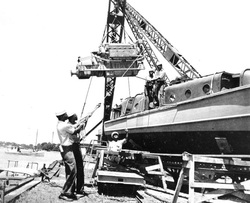 All of our boats had 24 volt electrical systems, each carrying four heavy duty six volt batteries connected in serial. Every year, a Navy supply truck would arrive at our skipper's home to pick up the old batteries and provide us with newly re-cored ones.

When we acquired the Crash Boat, it was driven by twin Hercules V8 gas engines. These were not like the V8s in automobiles. They were much larger and could drive all 17 tons of that boat at high speed. We loved the speed but flinched when we saw the gas bill. Each engine drank about eight gallons of gas per hour.

Our skipper called the Navy for a solution and a tractor dragging a flat bed trailer soon arrived with eight brand new, supercharged Hercules six cylinder diesels with transmissions attached. The Navy had acquired them to test a new clutch system that didn't meet their specifications. They were good enough for us though and we inherited them.

The Navy truck driver was happy to drive to a warehouse owned by one of the Scout's fathers to drop off six of them, and take the remaining two to a marina. The next week, a team of Navy engineers showed up to help us rig out the Hudson Invaders and install the diesels. Though not as powerful or fast thereafter, we found that we could afford the diesel fuel.

We were always welcome at Naval facilities. We often took our vessels to the Naval Academy where they were lifted out of the water and cradled in dry dock so we could clean and paint their bottoms. We also took advantage of numerous trips on Navy ships. On one occasion, we were at sea on a diesel submarine when the call came that one of our adult leaders was needed back in Baltimore. His wife was having a baby before expected. The Navy sent a helicopter from Norfolk to pick him up and then flew him to Baltimore on a Navy transport.

You are right to wonder how I ended up in the Army. I was not an ordinary Sea Scout. I also had my Coast Guard license as an operator of commercial vessels. I was a college and a law school graduate. I applied for Officer Candidate School in the Navy and seemed a shoo in. However, the North Vietnamese didn't have much of a naval force and the U.S. Navy was slow to find a slot for me. I waited until the last hour before my draft notice required me to report and swore in at 5 p.m. Four hours later, the Naval Recruiter called to tell me that they had an opening but it was too late.

Unfortunately, things changed during the 1960s. The Boy Scouts of America distanced themselves from the uniformed services to avoid the public's disapproval over the war in Vietnam. By the end of the war, Sea Scouts were no longer enjoying their special relationship with the Naval Services.

During the 1970s and 1980s, Sea Scouts dropped the Navy uniform and adopted more casual wear. Their program de-emphasized naval tradition. The Navy responded by establishing their own program to attract teenagers who wanted to prepare for a career in the naval services.

During this same time, there was a major shift in world economies. Americans discovered that their dollars could buy more goods and services in foreign lands. The Merchant Marine service began to shrink as ship owners re-registered their vessels under foreign flags and hired foreign nationals to man them. Thus, I could offer my Sea Scouts little promise of a naval career to inspire them to learn the skills that I was able to teach them.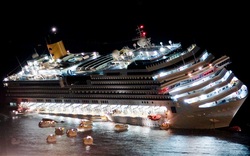 Ultimately, I think that America has suffered for their shortsightedness. Ships, no longer held to the higher standards of U.S. Registry, are more likely to be involved in accidents. Crews are more likely to abandon their passengers. Goods sold here are shipped in foreign bottoms and, in the event of crisis, we are dependent on the whim of other nations to transport men and material to trouble spots around the world.

Meanwhile, young men and women seeking good paying jobs won't find them at American ports. Certainly, there are some few openings to maintain and operate yard boats, service barges, and tugs, but nothing like the rich opportunities that used to exist.

So, I taught my boys the skills and hoped that they would serve them in other careers that hopefully saved them from a life of crime.