Opinion
DI DI MAU LEN is a Vietnamese phrase we used many times during the war there. It means "let's get the hell out of here, fast!" We generally said, "Let's di di mau outta here!" It's funny that phrase can be applied to the President's decision to draw down troops in Afghanistan. Two nations, two wars, decades apart and yet eerily similar. Of course, there are some already complaining that we're not getting out fast enough.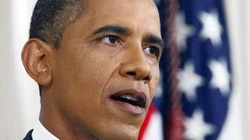 Is President Obama making the same decision that President Johnson made, possibly for the same political reasons? It's hard to know a person's motives, but political allies and political friends aren't waiting to find out. They are reshuffling themselves into some very strange alliances for and against the President's announced decision, each hoping to be on the "right" side of the issue -- in other words, their motives are purely political. Meanwhile, the troops who are serving there as well as those who served in the past, many wounded, and the families of the dead, are left to wonder if their sacrifices were worth it or if they were just pawns in another political game. I can answer that one; yes, they were political pawns.

Soldiers, sailors, marines, and airmen are always pawns, throughout all of history. There's nothing new in that. They are used to clean up the mess made by politicians until those august persons decide that the mess in hand is less politically offensive than the new one they are creating. Rarely is the military given an achievable mission. As a Vietnam Veteran I envy those who fought the Axis powers in World War II. It's hard to find any other example of a war fought for such a worthy purpose with a simple, clear cut goal.

Now we wonder, did the President make the "right" decision? I can answer that one, too. Yes and no. Lacking a reasonably attainable goal for the war (nation-building just doesn't pass the test of reasonableness) arguments can be made for either choice, staying or leaving. As a vocal critic of this President, I must admit that I am surprised that he made any decision at all considering his public record of avoiding decisions as a legislator and as a President (notwithstanding his one previous decision to launch the raid to kill or capture Osama Bin Laden).

Many will defend him by blaming Bush. It's a knee-jerk reaction among some. However, this is the paradox of being President. You are trapped by your own ambition to rise to the office. You assume responsibility for the problems you inherit as well as those you create. After all, wasn't he elected in part on the basis of his promise to solve the issues of war in the Middle East? Well, this is his solution and only time will tell if it was a good one. We'll never know the outcome had he chosen the alternative unless, of course, he changes his mind.