Oh-dark-thirty
I DIDN'T HAVE my first taste of a Twinkie until I joined the Army. They were standard fare in box lunches, especially at the Reception Center at Fort Jackson, South Carolina. We grew up on much better snacks, TastyKakes. The memory of TastyKakes has remained so strong on my palate that I never became a fan of Hostess products, even after I moved away from Baltimore.

TastyKakes originated in Philadelphia and didn't spread much beyond the mid-Atlantic states until recent times. Now they can be found throughout the South, including Texas. The problem is that they don't travel well. TastyKakes would either have to build bakeries in key cities or start using chemicals like Hostess (God forbid).

TastyKakes have a very short shelf life. Unlike Hostess products, such as Twinkies that were edible as long as twenty-seven years after manufacture (or so I've been told), TastyKakes aren't full of preservatives. Some have to be eaten within a week or two or pulled from the shelves of stores and disposed of.

Unfortunately, TastyKakes have been marketed poorly. Their branding and packaging look much like they did in the fifties when I grew up with them. They were never "modernized" and the managers of the company never saw any need for such frills. Everybody was supposed to just know how good they were. Well, those of us who grew up with them knew it. However, nobody outside their limited market area had even heard of them.

I encountered the same attitude with Knott's Berry Farm in the days when I was an ad man. I specialized in product packaging and point-of-purchase marketing. A product manager at Knott's Berry Farm consulted with me when they were test marketing a canned version of the punch that was popular at their theme park in Southern California. I tried to tell them that they needed more than a fancy can and product displays to sell outside the park. "No," the bosses argued. Everybody knows and loves Knott's Berry Farm. Right.

Coincidentally, Knott's Berry Farm experimented with mall stores specializing in their products in the San Francisco Bay region. They failed. Apparently, not everyone knew just how popular the brand was in Southern California, nor did they care.

Shortly after this incident, TastyKakes appeared on the shelves of our local grocery store in Orange County, California. Imagine my surprise. I did a little checking and found that they had rented warehouse space and were shipping a limited selection of their products from Philadelphia, the ones that could be refrigerated without destroying their texture or flavor. I contacted their local marketing representatives and made my pitch. "Modernize the packaging." "Invest in advertising." "Sponsor events."

Creamy chocolate icing on real chocolate TastyKake. Hostess chocolate coatings had lots of paraffin to make them shine and give a crunchy bite (click to enlarge)
The local manager agreed. "Posh," said the old guard in Philadelphia. Everyone knows how good we are. "All we have to do is put them on the shelves and the customers will snatch them up." Well, they didn't. The warehouse soon closed. The product disappeared from Southern California shelves.

Well, not completely. Luckily, there is a fast food chain that serves up a reasonably good Philadelphia Cheese Steak Sandwich and offers popular Philadelphia drinks and sides. They also have a limited selection of TastyKakes for desert.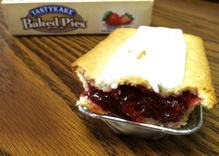 Real fruit filling in Tasty Pies. Not just a smear of jelly inside a tough crust like others. Are you hungry yet? (click to enlarge)
So, I can get my fix once in a while. If Twinkies are your thing, you better stock up now. You may not see them again unless Bimbo in Mexico buys the recipes and starts producing them. Of course, they'll be chock full of preservatives to help them survive the trip to the States, and you'll still enjoy the same great taste of chemicals. Yum.