Blogging
Propaganda is most often the purview of government agencies and revolutionary organizations. However, the Internet seems to have made it a public endeavor. Anyone can play. Simply visit almost any weblog discussion thread and you'll easily see what I mean.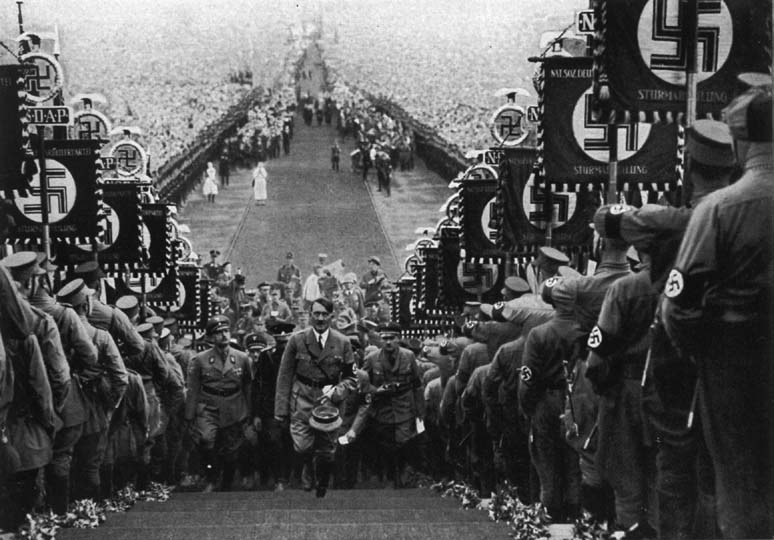 Hitler assembled his legions in great masses and transformed them into ranting mobs with his propaganda. Stalin used the state-run newspaper, the humorously named Pravda (Truth). In recent decades, ideologues have employed the popular cultural media, electronic news and entertainment, to carry their banners at the head of American political groups. Today, propaganda may be found liberally sprinkled in discussions all over the Internet, especially in weblogs. It is now the purview of the common folk.
To be honest, political discourse in America has never been polite. The Sons and Daughters of Liberty simply tarred and feathered anyone with the temerity to disagree with them. A member of the House of Representatives once beat Senator Charles Sumner into unconsciousness with his cane. However, with the advent of the Internet, anyone can play. Verbal brickbats can be thrown freely without fear of consequences. Even worse, virtual mobs may form to verbally assault anyone who wanders into the weblog of the opposition.
Interestingly, these amateurs have learned the rudiments of propaganda with little formal instruction. They're easy to spot.
Straw-man Arguments: The key word is "they", as in "they say" followed by an absurd comment attributed to the opposition (even though no one has ever said such a thing) followed by a brilliant refutation.
Scapegoating: Blame is heaped on the backs of the wealthy, the poor, and the middle class as well as those who are different (race, religion, creed, gender, sexual orientation, ideology, etc) so that they may be persecuted without remorse as goats were once painted with blood in biblical times and stoned outside the city gates.
Red Herring: Whenever someone is backed into a corner in debate, they toss out irrelevant facts to distract their antagonist and make good their escape. For example, the Koch Brothers are vilified for using their wealth to support conservatives, by those who are supported by the wealth of George Soros, none of which supports any argument for either side.
Repetition ad nauseum: Unfounded facts and arguments are repeated to answer challenges to the same unfounded facts and arguments as though simple repetition will make them true. For example, some scoff at the TEA Party as an Astroturf movement to imply that it is not a true grass roots movement, but rather the invention of an evil cabal. The fact that it is attacked equally by both parties seems to prove that it is beyond anyone's control.
Statements Quoted Out of Context: What is a frog? Most likely, you think of an amphibian. However, a dressmaker may think first of a clasp at the neck of a cape. A florist may think first of a device to arrange flowers. To a railroad man, a part of a switch in a railway track. In fact, there are many more definitions of "frog" and confusion reigns if the word is used without specifying its context. The same is especially true of statements made by the opposition and then quoted out of context.
Reducto ad Hitlerum: To refute an opponent's argument by characterizing it as something that Hitler would have believed. Generally, the words "Nazi", "Hitler", or "Holocaust" are used. Yes, I've seen this used many times in discussions on the Internet.

Unfortunately, not everyone has debate experience and many fall into the trap of lashing out with propaganda while engaged in an Internet discussion thread when faced with opposition, especially well-stated opposition. Generally, I attempt to respond with a question to give the person an opportunity to rethink their words. Another technique is to restate your opponents view in your own words in an attempt to clarify their position (for them as well as for yourself).
Sadly, once a conversation has devolved into an argument, there is little to do but walk away. Be prepared. The other party will likely taunt you for your supposed cowardice or claim victory as you turn tail. Never mind. They are beyond convincing and those who choose to lurk on the sidelines while you and they do battle, have already chosen sides and they won't be dissuaded either.