Cuba
AMERICAN SOLDIERS SERVING in Cuba during the Spanish-American War were greatly disillusioned by the insurgents fighting alongside them. They had come to the island with romantic notions of the Cuban rebels inspired by tales printed in American newspapers. The reality they discovered was far different.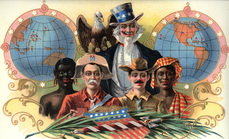 Idealized visions of America assisting gallant rebels helped fill the ranks of volunteers (click to enlarge)
Civilized warfare is a luxury when you face a well-trained and disciplined militia armed with modern firearms, and you have little more than a cane knife in your hand. The knife used to harvest sugar cane is a heavier version of its cousin, the machete. Most are rectangularly shaped with a hook at the end for pulling the felled stalks away from the area being harvested. Although not intended as a weapon, it served that purpose well if you could get close enough to the enemy. Many insurgents were killed as they attempted to close ranks with Spaniards firing well-aimed volleys.

The Americans were also shocked when they found that the insurgents treated noncombatants brutally. They thought that behavior was the sole provenance of the Spaniards. However, Cubans who failed to join the rebel forces or supply them were considered loyalists even if they were innocent. Thousands were hacked to death for no better reason than they had nothing to offer the rebels when the insurgents visited their villages.

Whatever good intentions the Americans had brought to the island with them were quickly dissipated as they got to know their new brothers in arms. By the time the Spaniards sued for peace, few could be found who supported the Cubans' bid for self-government.

American military and political leaders were similarly disenchanted with the rebel leaders. Although a few had proven themselves in combat, none were seen as having any practical political leadership skills. Thus, it quickly became evident to the Americans that they would have to train the Cubans to govern themselves and help them build the infrastructure of a modern nation.

However, there is no real evidence that the Americans ever intended to permanently annex the island. Indeed, there is every sign that they expected that their job in Cuba would be accomplished within a generation and that they would leave thereafter.

The Americans feared leaving Cuba to fend for itself at the end of the Spanish-American War. They didn't have to look far to the south of the island to see an example of the problems that would probably arise. Haiti had purchased its freedom from France a few decades earlier and its people were among the most destitute in the Caribbean. Having the same thing occur in Cuba, just a few miles off the southern coast of the United States was unacceptable. Disease and poverty could well spread to America's shores unless they were eradicated in Cuba.

Also, there were American investments in the island to be considered. The potential for profit there was too great to abandon.