America
Sadly, it seems that our Constitution has failed. Our union is becoming less perfect, more fragmented. Justice and domestic tranquility are fast disappearing. Our defenses are being riddled by invaders across our porous borders. The general welfare is suffering from a growing proportion of the population living in poverty. And liberty is a fading dream. Many feel that these trends can be reversed if the government's cancerous-like growth can be stopped and reversed.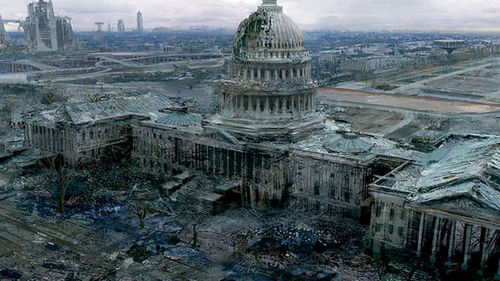 Why has government grown so far beyond its Constitutionally mandated limits? Principally, it seems that the plain language restrictions on government growth have been misinterpreted until they mean the opposite of the original intention of the architects of the Constitution.

Maybe, just maybe, we need some other method to restrict government, something other than words.

A whimsical idea occurred to me while I was considering a related question: Should the capitol be relocated and, if so, where?

There are many good reasons for relocating the nation's capitol regardless of the time and expense involved. However, it is possible that the cost of such a move could be recouped if during the move we found a way of shearing off its excess baggage.

Then it occurred to me that this could be accomplished simply by restricting the physical limits of government. We could define a limited area in which the new capitol was to be built within specific borders and that no branch of government or bureaucracy could be located elsewhere.

The current capitol of the United States, Washington, D.C., is 68.25 square miles/176.75 square kilometers. Even this is insufficient to contain all of it. Many bureaucratic headquarters are located elsewhere. What if the new capitol were downsized to approximately 35 square miles/90 square kilometers and all government offices were required to exist within it? Halving the size of the capitol just might halve both the size and influence of government as well as its cost.

But, I hear you cry, the politicians and the bureaucrats could circumvent the restriction by building vertically.

True.

However, by siting the new capitol in an active seismic area would overcome that.

My best recommendation would be the New Madrid Fault. right where Arkansas, Missouri, Illinois, Kentucky and Tennessee meet.

To make my proposal even more interesting, I would require that all branch heads including the President, the Supreme Court Justices, and the leaders of Congress must occupy the topmost floors of all buildings.

By implementing this final proposal, the size of government as well as term limits would be administered by divine intervention.

Not a bad proposal, you think? Whimsical, but tantalizing...